Wasted Time
Welcome to part 2 of the Angels of Death review. If you missed part 1, you can read that here. Last time I stated I would be finishing this one mostly as a formality, but I always hope that my expectations can be exceeded. Was that the case with the final four episodes of Angels of Death? Kind of. You see, these episodes were generally better but the ending left a definite sour taste in my mouth.
What exactly it was that made three of the four episodes better is kind of hard to pin down. They didn't really do all that much different, yet somehow they were more fun to watch. This might have to do with tighter pacing as things reach the end game, or perhaps how the characters interact, but regardless, there is something here that Angels of Death was sorely lacking previously.
Still, they weren't the best episodes. These improvements were noticeable but nothing near enough to provide a boost to my opinion of the show as a whole. Even if it did, the final episode was really bad. Let's talk about that.
The finale of Angels of Death is a lot of silent, sweeping shots. After finally escaping, Rachel and Zach make it to, what appears to be, the streets of modern day London. Zach is promptly arrested and Rachel is taken to a mental facility. The few bits of dialog are Rachel's Dr. saying totally random stuff about Rachel (that is wrong) while being interviewed by a character, who they bothered to animate having a moving mouth, that never speaks because he isn't Japanese.
That part really irked me. They didn't even try to dub it with bad English. Heck, even if he just spoke Japanese, that would have been fine. The Dr. does so just fine. It is weird and nonsensical since they animated the guy clearly talking. Instead, you just get awkward silence and subtitles.
In the end Rachel learns that Zach is to be put to death for his crimes but then he shows up last-minute to whisk Rachel away and fulfill his promise. After the long credits, which were a nice touch just for the fact that everybody is seemingly accredited across all 16 episodes, a bonus scene lingers on the now empty room where Rachel was, with Zach's knife that he gave to her on the floor with some blood.
You might think that Rachel killed herself based on that, which would be an ok enough end, but game players have confirmed that everything was very literal with the ending. Just do yourself a favor, don't bother with Angels of Death. It just isn't worth it for a few alright moments at best.
I do plan to check the game out, as I recently acquired it during Steam's Halloween sale, since the game is supposed to be a lot better. Hopefully that is true and when I finish that up you will definitely be seeing a review of that on here. If you would like to check the game out, click the image below. I'm trying a new thing out where certain key images link to places like the MAL page or other useful sites.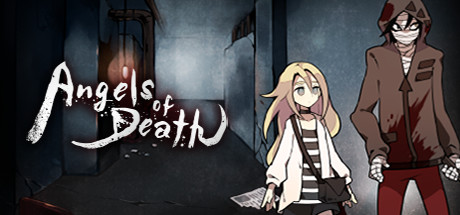 ---
What are your thoughts on Angels of Death? Did you find this to be pretty bad like me, or did you actually enjoy this quite a bit? Plan to check out the game? Let me hear your thoughts in the comments below. If you would like to support me and my content please hit the button below as I'd greatly appreciate it. As always, thank you for reading and have yourself a wonderful day!