Here's Everything You Need to Know About Jon's Creator Showcase!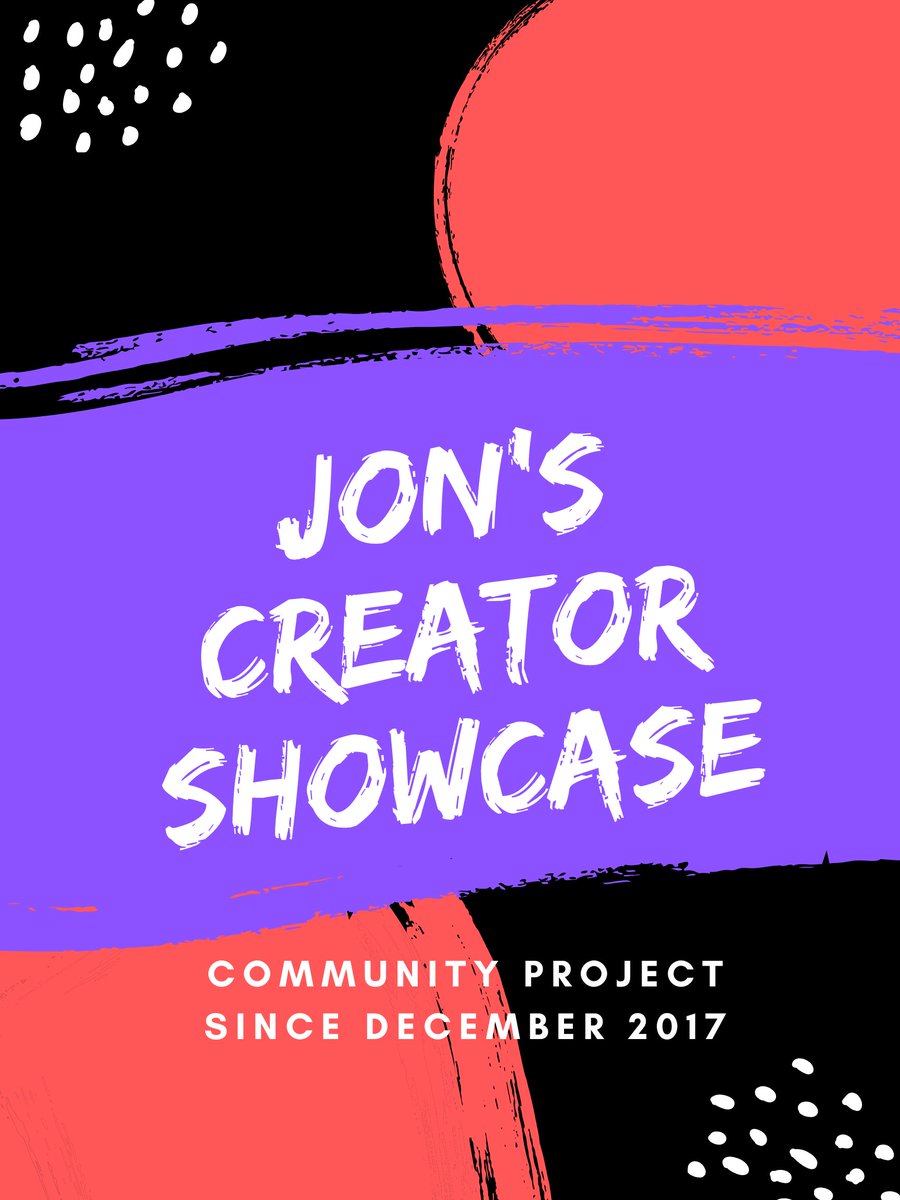 Jon's Creator Showcase is something I started back in January 2018 and ran for only one month. I highlighted creator submitted creations from December 2017 which you can take a look at here. The project was going to retire there until Rastilin took it upon himself to try and revive the project by turning it into a community event. Now it's back and bigger than ever before!
This page will provide you with all the information and tools for hosting a showcase. It will also be a great way to just find out more about it too!
Project Goals
Give exposure to both the host & creators who submit content to the showcase.

Highlight a wide variety of content including written word, art, video, audio, etc…

Allow for all creators, regardless of skill or current recognition, to participate and share their creations.

Encourage involvement from creators across all platforms.

Offer a fun and interactive way for people to discover new and interesting creations.

Inspire growth and exploration for both the host and creators.
Community Guidelines
I put together a document detailing how to host a Jon's Creator Showcase. Learn all about that here.
Frequently Asked Questions
How do I sign up for a month? – It's easy, just take a spot on the schedule here.
Can I sign up for to host more than one month? – Yes, however you cannot host two months back-to-back. You will need to contact me at jonspencerreviews@gmail.com in order to have the second month approved as I have to override the schedule from my end.
I don't have a WordPress, can I still host? – Absolutely! Whether you are on WordPress, YouTube, or someplace else you can host a showcase. A Twitter is necessary for collecting submissions and spreading the word, but that's really all you need!
When I sign up for a month, when exactly do I start taking submissions? – When your month comes you should make an announcement post around the first Monday of the month. You'll be collecting submissions from the month PRIOR to when you are hosting. For example, if you are hosting in March you would collect submissions from February. You then compile submissions into a showcase that you'll release at the end of your host month.
The Official Jon's Community Showcase Image(s)
These images were provided by Nesha so be sure to show some love! Feel free to use any of these three images when hosting the showcase.