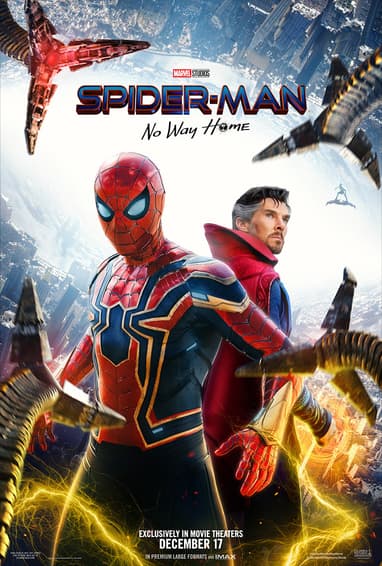 The amount of hype for Spider-Man: No Way Home, the third entry in Jon Watts MCU trilogy was unbelievably high. Right from the get-go, there has been a lot of discussion in which direction this installment was going to head, especially since Sony and Disney almost parted ways after the huge success of Far From Home. We almost didn't get a third chapter until Spider-Man actor Tom Holland allegedly made a drunken phone call in tears to settle a dispute! We really owe it to Holland for stepping up and speaking his mind, as it paved way for what may not just be the best Spider-Man movie, nor the best MCU movie, but the best movie of 2021 as of late!
I know there are still plenty of movies out there deserving of that regard, especially with Oscar Season on the rise, but I have never seen a movie blow me away quite like No Way Home! The moment I left the theater, I felt a rush burn through me like never before! It is clear that this was meant to be seen on a big screen with the biggest crowd imaginable, similar to 2015's Star Wars: The Force Awakens or 2019's Avengers: Endgame! As crappy as these past two years have been, nothing beats the joy of being in that theater to witness such an epic chapter of a trilogy that seemed further away from home the more it went (pun intended). I could not be any more thrilled to be in that theater basking in every moment with a crowd as pumped as this!
The last we saw Peter Parker (Holland), he had just been outed by a dying Mysterio (Jake Gyllenhaal) as the secret identity of Spider-Man, which ends up taking a toll on his private life. He is constantly hounded by reporters, helicopters show up everywhere he goes, and he is the subject of scrutiny by J. Jonah Jameson (J.K. Simmons). Not even the likes of his girlfriend, MJ (Zendaya), best friend, Ned Leeds (Jacob Batalon), aunt May (Marisa Tomei), and head of Stark Industries, Happy Hogan (Jon Favreau) can catch a break. This first portion serves as a commentary on how the media perceives public figures. What is Peter to do now that everyone knows who he is? His instinct is to go to visit Dr. Stephen Strange (Benedict Cumberbatch), who has been known to use his powers of mysticism to transcend space and time. He asks Strange if there is a way to get the world to forget that he is Spider-Man. Strange obliges, yet Peter's constant questioning causes a rift that opens the door to the multiverse, unleashing a multitude of villains from Alfred Molina's Doc Ock to Willem Dafoe's Green Goblin. I feel that this is where I should stop since there is so much to talk about.
The feeling of going any further would ruin the experience for anyone who has yet to see No Way Home (and my moviegoing conscience). I will say one thing however, the villains in No Way Home are at their very best here! Dafoe hams it up yet again as Goblin, approaching it in a manner that feels ultimately self-aware, while Molina delivers a sophisticated demeanor that you find yourself interested in his dilemma. When these villains are on screen together, you feel the camaraderie between them, even if you never really cared for them in the beginning. They all shine with their presences! The most common criticism with each Spider-Man movie is the amount of villains in one film. Usually, when that happens, it gets too crowded, albeit clunky. In No Way Home, it is welcome! Watts handles them with a sense of earnest respect and care, making their purpose meaningful instead of feeling shoehorned, which makes their inclusion in the climax earned! The climax, in question, is a work of spectacle that blows all other Spider-Man fights out of the water! There is even a confrontation between Peter and Strange on a train that hearkens back to the mind-blowing visuals of Doctor Strange!
With all its feels on display, No Way Home is filled with a heavy sense of emotion, making it the most mature and darkest entry in Watts' Spider-Man trilogy! Homecoming was the John-Hughes-esque teen comedy, Far From Home was the Marvel superhero movie, while No Way Home is the physical and emotional hero's journey, and one which I would take multiple times if I had to. Not only that, but it is a testament on why we love Spider-Man so much! Through all the comic books, cartoons, shows, and movies, for fans young and old, there will never be an experience quite like No Way Home, which, I feel, will stick with us for years to come!
GRADE: A+