2 Whole Years!?!
I seriously can't believe that #TheJCS has grown to become as large as it has been. It's thanks to all of you that the project has become as successful as it has, to which I am truly grateful. Here's to another excellent year of the showcase as we look back over 2019 and see what 2020 has in store for us!
The 2019 Complete Collection
Happen to miss out on any of the showcases last year? No problem! I've got your back, now you can read up here! You'll find links to each host and their respective showcase along with other helpful information if you want to learn more about the program or help keep it going.
Reflecting on the Past Year
Last year I had several goals for Jon's Creator Showcase, let's look back on those and see what went well, and what didn't:
Goal:  More participation outside of the anime community. I love the anime community and we have had a good amount of participation outside of it before, but I'd love to see other hobbies and interests represented EVEN MORE. This could be travel, board games, film, literature, or anything really!
Result:  This was a rousing success! It took a little doing, but the showcase has really branched out over the past year. We've gotten videos, artwork, book reviews, and a whole lot more! The topics have seen an uptick in variety as well, which is also great! I don't see this stopping anytime soon as the program gains more traction in the community.
Goal:  Post type variety. Unsurprisingly nearly all of the content featured in our monthly issues are text posts. That's awesome but wouldn't it be cool if we had image posts showcasing art, video, and even podcasts? It think so too! I want to encourage more content creators to participate beyond the blogging community.
Result:  I pretty much covered this in the last point, but we did manage this. All of the things I listed above were featured at least once throughout 2019. So, goal achieved!
Goal:  Personally, I'd love it if just one person with a big following participated this year. They often get linked but ignore joining. The showcase is for everyone, big or small, and we want to celebrate the wonderful creations that YOU are putting so much effort into creation. Don't think you are ever too big or too small for this project, because, you aren't.
Result:  I'm going to say we achieved this one as well! Some of you guys have actually become pretty big yourselves! That's great! While we still haven't penetrated to the masses, I am still happy with the level of reach we managed to achieve in just one year's time. Here's to continued growth!
Goal:  On the same side of the coin, I'd like to see a hand extended to smaller creators trying to get off the ground. It's hard to get recognition so be mindful of who you nominate in this next year.
Result:  Would you look at that, all goals hit! We could still be a bit better about this, but in general the mix of large and small creators has been very healthy. Several new faces emerged across 2019, which was awesome!
Image Overhaul & New Promotional Material
I've been really excited about this one! Recently I've been working on rebranding my personal image, but I thought the showcase could also use a bit of a makeover. While the old material was great, it used the old hashtag and just didn't fit what the showcase ultimately became over the past year. Here's all the cool images I've made for the showcase which you can use to promote the showcase yourself!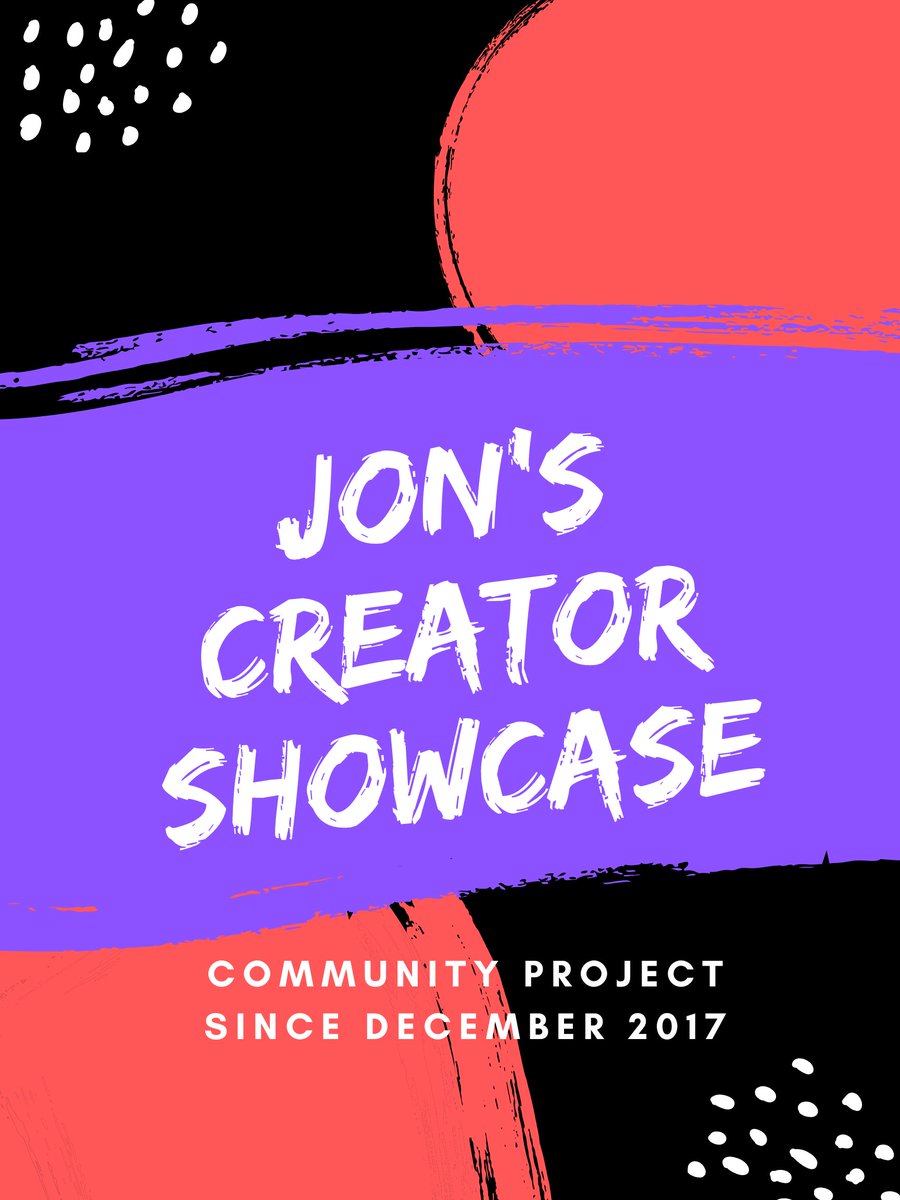 Hosting Schedule 2020
Like always, you can find the schedule here via the Doodle poll, but I also made a visual schedule for convenience. The tweet below has the image and all of the hosts tagged in order, just in case you are unfamiliar with any of them. Be sure to say "Hi!" while you are there!
I'm Hosting #TheJCS This Month, With a Twist!
Since the decade has come to a close, I have a special twist for this month's hosting! You may choose to optionally submit ANY creation of yours from the past decade (2010-2019), regardless of if you have shared it for a showcase before or not. This is a special one-time deal, so feel free to take advantage! Of course, I'll personally read/watch/review anything you send my way so long as you follow the instructions below:
Submissions are open from 1/3/20 until 1/30/20
Share something YOU created, either from December 2019 or the past decade (2010-2019). This can be anything from a blog post, piece of art, video, podcast, or anything you created! Do this by using #TheJCS on Twitter and preferably tag me @JS_Reviews if you don't reply on the main thread. Alternatively, you can email me, reply here below, or hit me up on Discord. See my contacts page for that stuff.

When putting your submission in, be sure to mention that it is ANY content from the past decade this time, not just the usual December 2019 submissions (though that's fine too of course). There's always a little confusion on this, so let's start making good habits this year by mentioning the desired date range.

Invite a few friends to join in on the fun! Do this by tagging (I suggest 3) friends when making your submission. It doesn't matter if the person you are inviting only has a few followers or millions, if you think they are an AWESOME creator, please don't hesitate to tag them!

If you get asked a question like, "What's this showcase thing all about?" please do your best to answer. You'll find some useful resources below:

Last, but certainly not least, explore the showcase and help promote it! Look over some of the submissions that came before you, retweet some that you enjoy, and maybe even follow a new creator or two! While it's true that I'll be compiling everything for a MASSIVE post at the end of the month, there's no reason to wait on discovery amazing creators and interacting with each other.
Once again, I'd like to extend a warm "thank you!" to everybody who has participated in the project so far. Your support is greatly appreciated and I'm so glad that there are all these people who enjoy this community initiative of mine. Whether you've hosted, participated each time, or this is the first you are hearing of it, thank you so much!