Lot of Hype, Regrettably Average
While Black Fox wasn't the first to receive the simulcast treatment, we got to see this the same time Japanese theaters had it, it is the first time I've watched one. Namely because it isn't tied to an existing franchise and it did look really cool. So when it got a fair bit of hype, I felt confident enough in checking it out. Unfortunately for me, and for Black Fox, the film is the definition of average.
All I knew about this movie coming into it was that it seemed to be about ninjas. When it opened up on a girl being chased by one, and knowing that the girl was clearly the main character, it wasn't hard to figure out this was some kind of training. The sequence is really good, and in some ways, the best part of the film.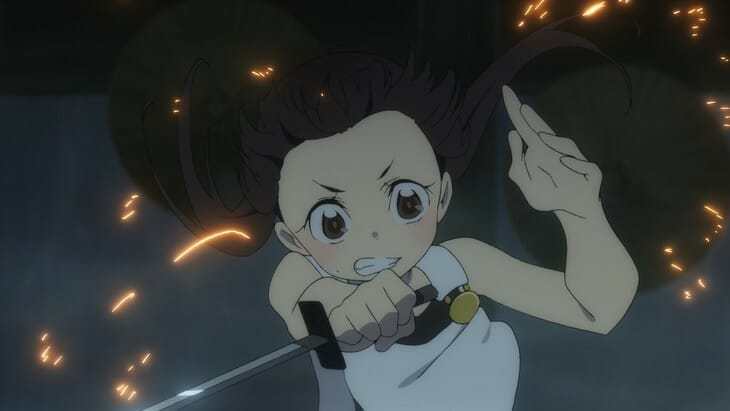 You learn that the girl, Rikka, is expected to take up her grandfather's legacy and lead the Isurugi clan when she comes of age. However, she has other plans. Her father is a scientist who makes cools stuff like animal drones that have human-like AI. Rikka would like nothing more than to follow in her father's footsteps.
Flash-forward and Rikka has taken the first major step to achieving her dreams, even if it is to the disappointment of her grandfather, getting into the same school her father attended. Now she's coming home to share the good news AND celebrate her birthday. Unfortunately, the past has come to haunt Rikka's father, and I'm sure you don't need me to tell you where this is going…
In that moment Rikka abandons her aspirations and takes up the blade to seek revenge on the man and all who took her family from her. Which would be cool, except the film abandons this idea in favor of exploring some themes of forgiveness and becoming your own person.
From my summary, you can probably already sense a big problem with the film. It's predictable. So much so, that it almost feels like a paint by numbers for how to make a successful blockbuster hit. There's not a single thing you shouldn't be able to see coming a mile away, and that's one of the biggest problems I have with Black Fox.
Outside the minor deviation from this just being a ninja movie to becoming something closer to a Spider-Man film, the whole thing is just one trope after another. While none of them are bad or hurt the integrity of the film, the lack of risk or innovation is sorely felt here.
My other gripe is that the whole "revenge" aspect of the film is completely abandoned. It makes sense when Rikka doesn't kill the first guy she interacts with, but as time goes on, it gets harder to accept that she would give up on it because her robot pets told her to. On the one hand, forgiveness is powerful, and the people she ultimately does forgive, do ultimately deserve it. Though, on the other hand, having it completely removed from the table didn't feel good, especially as events unfold.
An example is likely needed here. Toward the end of the movie, the bad guy from the evil company (which is so obviously evil it is hilarious) sends an evil drone based on stolen technology from Rikka's dad after her. It destroys a bunch of the city and everybody can clearly tell the corporation made it. I find it hard to believe that Rikka is going to somehow resolve this peacefully with no casualties.
Furthermore, as an aside, can I just say that it is so stupid that when the people confront the corporation about the evil robots that all the doubts and outrage is dispelled because the corporation says they'll pay for all the damages, help rebuild, etc… Then the CEO or whatever he is also announces that they are changing the name of the city to be his name. It's so stupid, I honestly don't get this part at all.
This is probably an issue more specific to me, but it all felt incredibly cheesy. Perhaps this wouldn't have stuck with me as such a big deal if Black Fox actually had any resolution. That's right folks, the film doesn't have an ending. It "resolves" an arc of a much bigger story, but it also doesn't seem like the movie will be getting a continuation as one hasn't been announced (at least to my knowledge).
After doing a bit of research, it seems like this was the product of a failed TV show, which is likely why this occurs. But then, I have to ask, why was this even released? I just can't help but feel that this is a half-baked product that teases more that may never come. Perhaps the popularity of the film, as it was pretty well received in general, will get it there, though I can't say I'm looking forward to more.
Look, it's not like Black Fox is a bad movie. The animation is really good and the story it tells is tried and true. It just needed more, and I don't just mean the runtime, I mean this in almost every respect. That's why I can't ultimately recommend the film. While you may enjoy it, the experience ultimately feels lacking.
---
That's it for Black Fox. How did you enjoy it? I know that I wasn't the only one who felt a bit baffled by this, but maybe you saw something I didn't. I'd love to hear your thoughts. If you want to support my efforts here, please click one of my donation buttons below as the support is appreciated. Thank you so much for reading and I hope to see you again soon!