Not That There's Anything Wrong With That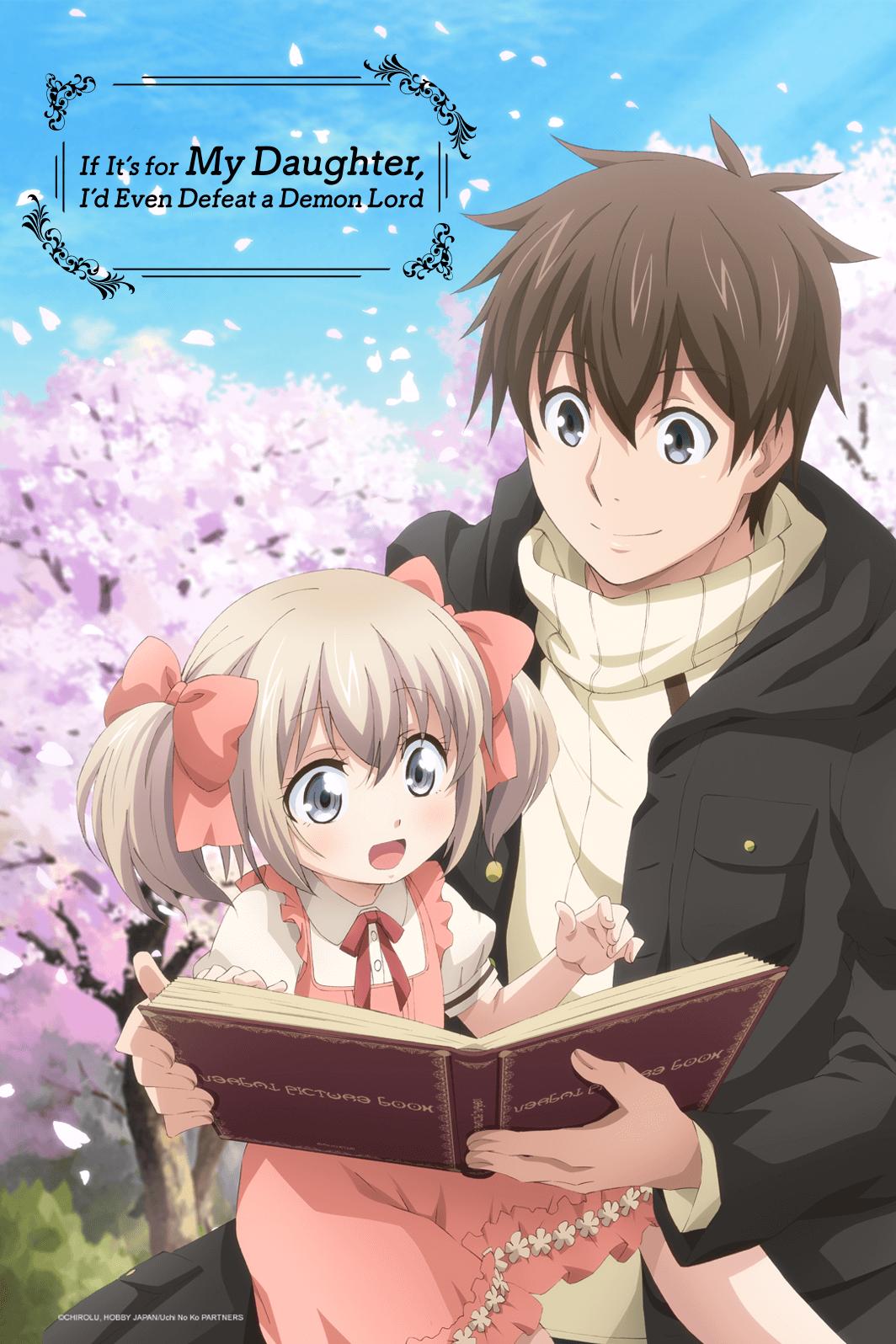 By now, it should come to no surprise to anyone that If It's for My Daughter, I'd Even Defeat a Demon Lord is something I would be genuinely excited about. Father-daughter stories are my jam, so this was my top pick for shows I knew I'd be watching for the Summer 2019 season. Now that it's over, where does it stack up compared to similar (though niche) titles?
Unsurprisingly, If It's for My Daughter, I'd Even Defeat a Demon Lord, or Demon Daughter as I'll refer to it moving forward, is a slice of life story following the daily lives of Dale and Latina. There's really not much story to speak of, it really is just that fluffy "fuwa fuwa" kind of affair that is going to be overly sweet for some folks, but there is a story. For example, they do toss in some "sour" as some pretty heavy topics, such as suicide, are tackled in the anime which keeps it engaging and a bit more meaningful.
One day an adventure named Dale comes across a lone child, Latina, while doing a job in the woods. He learns that her father was recently killed and that she is an outcast demon, but the reason for which is not really mentioned until the end. Dale decides to adopt Latina and give her a comfortable life. If that sounds good to you, then you will probably enjoy all of Dale's doting as Latina grows throughout the 12 episodes.
Suggested reading:  "Barakamon, Sweetness & Lightning, and Usagi Drop – What's the Appeal?" Just click the picture below!
Firstly, I should address the "Bunny Drop" elephant in the room. The anime never goes that route (the anime for Bunny Drop doesn't either, just to be clear), so if that is your primary concern, don't worry. Inklings of that maybe occurring are present but really it shouldn't stop you from enjoying Demon Daughter. Just wanted to get that out before really diving into any discussion here.
There is a lot of weird talk about how this show is a grooming anime and all this pedophilia junk, but to those people, kindly buzz off. This is a wholesome show that tries to be reasonably serious about some issues. There is some teasing about this kind of content, but it is for humor purposes. Anyway, just don't listen to those people.
Speaking of Bunny Drop, I ought to mention that if I had to choose which show to recommend between that and Demon Daughter, Bunny Drop would ultimately win out. This isn't to say that this show was bad, but what the former has over the latter is a stronger narrative sense.
Outside of Latina, I really didn't find myself too invested in the other characters featured in Demon Daughter. This is saying something because there are actually quite a few of them, some receiving a woefully pitiful amount of screentime. This isn't to say that the characters in this anime are bad, they aren't, but I just couldn't form the bond with everybody like I could for other shows in this niche.
It's not that I can't identify with Dale, but he obviously has a lot more character just beyond the surface. I feel like, had the anime been longer, he would have been a fairly compelling character, but with the source material being so short at only 8 volumes, I also see why we didn't really get that. The story very much wants to focus on Latina and how she feels about the people in her life, specifically Dale.
There's nothing inherently wrong with this approach, as I remind you Demon Daughter did tackle some more serious subject matter, but it leaves things feeling a bit lacking. I still rate the show pretty well and would watch it again alongside the general rotation of this kind of anime, but this is more for the general lack of choice than the sheer quality of the product.
Before I move too much further, as I have brought this up twice now, I do want to give credit to Demon Daughter for having a few serious, and even dark, moments. Latina visiting her father's grave was a well handled scene that also drew on themes and ideas present throughout the show, and it left a lasting impact on the characters. It was a little corny, but with this kind of show, that's totally fine.
For me, the moment when Latina tries to commit suicide was a pretty unexpected moment. The problem these kind of shows usually have is that the kids are generally overly idyllic and no real conflict arises in them. It's small, but exploring the impact that the racist teacher has on Latina and the realization that she is likely going to outlive all of her loved ones, that she is different, is pretty important. This really held the show together at the start, as I admit, my interest was starting to wane a bit initially.
If I had to criticize this scene, it would only be for how quickly it happens. The event occurs, and then characters kind of move on like it didn't happen. Pacing is just not something Demon Daughter quite grasps.
To best illustrate this, just look at how Latina ages throughout the show. She starts about 5 years old, and by the end of 12 episodes, she's about 10. Sometimes she'd age up in one episode, to age up AGAIN, in the next. It was kind of jarring and it invited my friend, and even my mom, to joke about an inevitable relationship. Mind you, it never bothered us too terribly, but it did hurt the investment compared to other shows like this one.
Finally, I do have to mention the animation. Sometimes it is pretty reasonable, but it is often lacking in some obvious ways. Additionally, some of the scenes showing how cute Latina is just didn't do it for me because it looked… flat? I don't really have the best way to describe it, but the animation department was a little lacking here.
I didn't have a good place to mention this, but I really love the fact that they show the characters wearing several outfits. Latina especially.
Still, the show is cute and it totally delivers on that father-daughter goodness. If you are like me and you seek that kind of show out, than this will satisfy you. For me, it's one more show to add to that list, and it was better than Alice & Zouroku in terms of cohesion. Demon Daughter is at least worth the try for when you want something (mostly) sweet but still containing a little food for thought.
---
What did you think of Demon Daughter? Was this just to sickly sweet or was it just right? I'd love to hear your thoughts on the anime and receive any recommendations for other shows like the ones I mention here as well! If you enjoy my writing please click the Ko-fi button below and donate a few dollars to keep me going, I'd appreciate it. Thanks for stopping by and I hope to see you again soon!