Enter a Storybook World…
On an endless sea of sand floats a lone island known as the Mud Whale. It's like something out of a story book, the villagers there living peaceful lives. Chakuro is one such person, he is a young record keeper for the Mud Whale. One day, a new island floats by and Chakuro is among those who go to scout it. There he makes a startling discovery, a lone girl named Lykos. However, with her discovery, the Mud Whale would soon lose their peaceful existence.
Once again I'm back with another entry in my Netflix journey. After the disastrous "documentary", Enter the Anime, pretty much anything would be a welcome improvement. I had heard some really positive things about the first episode of this show, but had been warned it wouldn't quite keep the quality. That said, I decided to check things out for myself.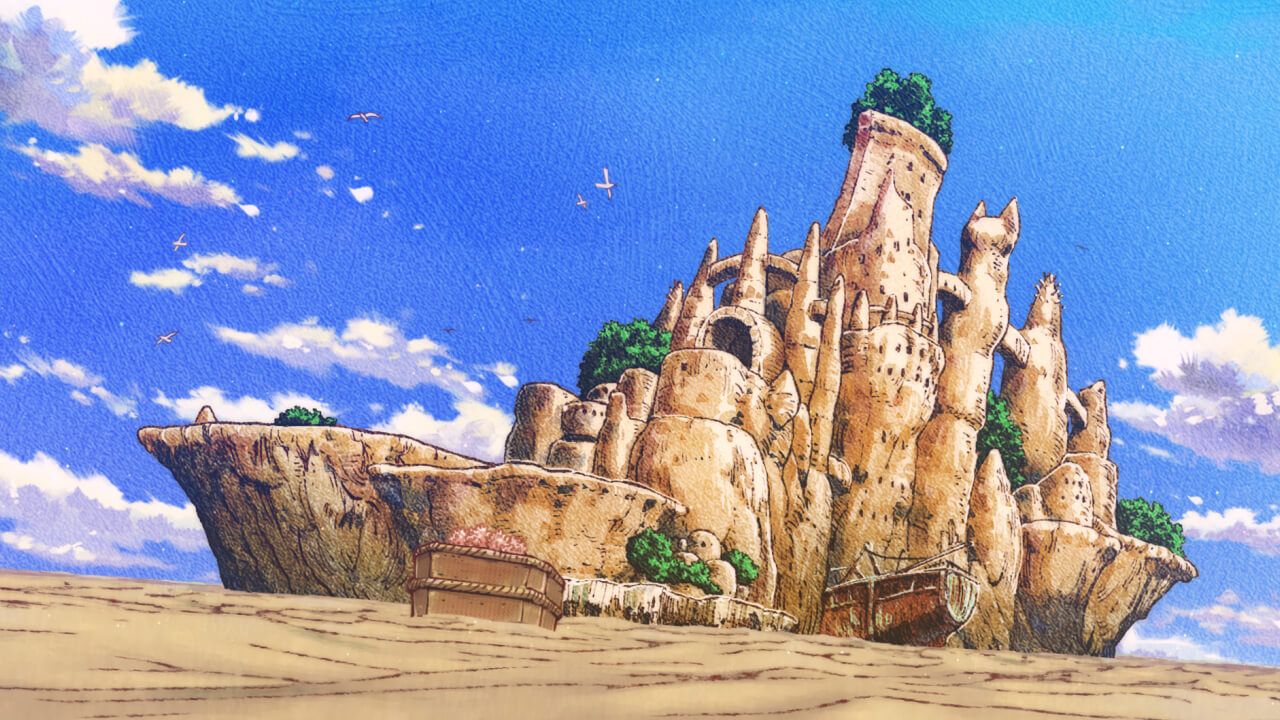 In a lot of ways, this show reminded me of From the New World. Unlike that series, Children of the Whales, only has a single 12 episode season to work with and it really shows. This isn't to say that the anime is bad, it was pretty decent, but if you are expecting a tight conclusion, you simply won't get it.
Other than that, you are going to see a lot of things in common. Folks have magic powers, their is a council of elders that holds many secrets, etc… There are key differences too of course, but I would confidently say if you enjoyed one, you'd almost certainly enjoy the other.
What stood out the most for Children of the Whales was its unique art style. It was no exaggeration when I called this a "storybook world" at the start of the article. Everything has this painterly feelingly, with a soft watercolor-esque palette. This was cool for a few reasons.
The first being that it was really unique. I can't think of many shows that have utilized this kind of aesthetic, especially for its entire run. Secondly, it cleverly hides the true nature of the series. I won't spoil things for you, but things do take a turn after a few episodes.
However, this is not all good though. As a result of this art style, the characters often look out of place on the backgrounds. They are drawn in a far too traditional way, lacking any of the softness of the background. Occasionally somebody looks like they belong, but a majority of the cast has this issue of popping off the background, rather than fitting into it.
The issues don't cease to end here though. As I hinted at earlier, the writing suffers as a pretty direct result of the short episode count. Let's start with Lykos, because that's where problems really started to creep in.
Lykos is from a different nation than the folks on the Mud Whale, unsurprisingly. Where she is from, people feed their emotions to these creatures and are taught that those with emotions are heathenistic sinners. It's a cool idea, but here is the problem with it, the "emotionless" people, still have emotions.
Let me explain. It is stated in the series that over time the emotions come back to people if they don't get rid of them semi-regularly. There is also mention that nobles in this world are permitted to keep a limited amount of emotions, but that is never really explained well. This is fine.
The problem is that countless time you see people who "don't have emotions" respond as if they do, people you know don't fit into either of the above exceptions I listed. There is a scene where a whole ship acts surprised by the leader's commands, scenes where characters act out of fear, anger, or pride, and that is the issue with this plot point. These people just aren't consistent.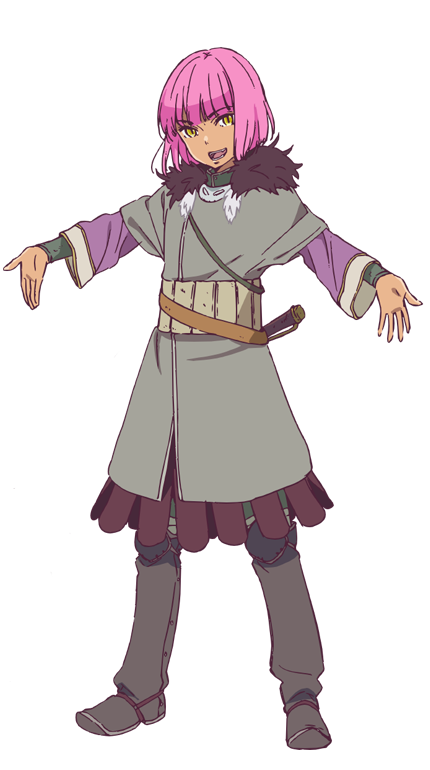 You can really see this in the character Liontari. He's from the "emotionless" nation but is clearly shown to have the most emotions out of everybody. This is all explained, and is a great idea if everyone else were consistent, but again, they weren't.
Since people with emotions are evil according to this society, it is strange to me that Liontari is not only a full member of said society, but a member of its military. He's put on the single most important mission too. He's shown to have been bullied as a kid some, but other than that, he is fairly well respected. It just didn't make sense.
If you put aside this rather glaring issue, the rest of the story is compelling. Children of the Whales was genuinely interesting and had a great world that it was building up in spite of these issues. It was just too bad that these issues were distracting because it did drag down the enjoyment level.
This was further compounded by Netflix's infinite wisdom to not translate and subtitle whole sections of the anime. I was watching dubbed, but I checked, both versions have this issue. Episode 7 has a character sing a song, in universe, that holds plot relevancy. It sees reprisal in the anime, and is later sung by most of the cast later on. So it is obviously pretty important.
Unfortunately, Netflix didn't seem to think so. The music is great, a genuine point of praise, but not translating this insert song was a big misstep. It's bad enough when OP's and ED's aren't translated, but a song sung in a show by the cast is pretty unforgivable to leave out. It's like not translating minutes of dialog for no reason other than to save a few bucks.
This was a show from Fall 2017, when Netflix was still kind of new to this anime game, but even still, this was unacceptable and absolutely worked against the show. It seems like Netflix has learned its lesson with other shows, but to see this title suffer was a disappointing loss.
I say that, because this show is officially canceled by Netflix. You are never going to see how the story ends. There is a point where season one could end and have a decent conclusion, but it clearly builds up a second season in the final few. I've said it once, and I'll say it again, Netflix has a horrible habit of doing this and they need to stop!
Sorry for the lack of subtitles, this was the best trailer I could find. It shows off the animation and some music though.
When it comes to my final verdict, I'm somewhat conflicted. On the one hand, it is a good show, but on the other, it has a lot of problems that make recommending it difficult. I'd almost rather say just go watch From the New World over Children of the Whales, because at least you'll get a full experience there (even if that isn't without its own flaws). It's a shame we won't see more of this, because given a bit more time, I think it would have really hit some high notes.
---
Have you seen Children of the Whales? Let me hear your thoughts in the comments. If you enjoyed my article, please consider a donation by clicking the Ko-fi button below, I really appreciate the support. Thanks for reading and I hope to see ya again soon!