Y'all Know I Love School Days, Right?
Well if you didn't, you certainly do now. That's why when the Winter 2019 season had a show called, Domestic Girlfriend, I would have to watch it. Took awhile for me to get to, but here I am. Today I'll be exploring what sets this apart from the sea of trash that masquerades as something similar.
First, a quick catch up for folks who may not know what Domestic Girlfriend is all about. A high school student, Natsuo, who is going through a lot. He recently lost his virginity to a girl whom he will likely never see again, but that's ok, he's got the hots for teacher. What more, his dad is planning to remarry too. However, things take a turn for the weird when it is discovered that both the girl he slept with, and his teacher, are the daughters of the woman set to remarry his father. This can only go one way…
Obviously this scenario is a bit absurd but this is a necessary element for enjoying the anime. The secret to making a show like Domestic Girlfriend succeed for me lies in this foundation. Things need to be rooted in the probable, which is true of both this and the aforementioned School Days, but take an increasingly escalating route that boarders on the fantastical.
Now this isn't to say that the events of either show couldn't happen, but they typically don't. This is an important distinction because another key element is a level of frustration with how the characters act. Having the twists and turns that you may see in a daytime soap opera with characters making poor choices, that still fit the narrative, are all you really need to get a show like this to catch my attention.
To keep it though, you need to have solid writing and presentation, which Domestic Girlfriend has in spades. It isn't animated with a lot of flash, but it doesn't need to be. Instead it puts weight on its character writing and music, excelling at both.
Seriously, just listen to this OP. "Kawaki wo Ameku" by Minami does a great job getting you hype for the episode to come and may be among my contenders for best of the year. I just had to mention it, because not doing so would be criminal.
Fun fact, Crunchyroll actually had the OP subbed, which is a rare sight
When it comes to writing, the pacing is great. For a show that moves rather quickly, it managed to show great restraint and control. Really, the plot develops quickly, but the actual events unfold rather slowly. The obvious direction for the story to go, yeah, that takes over 3 episodes to even start thinking about. It's a huge positive for Domestic Girlfriend that cannot be understated.
Furthermore, I'm not one to really enjoy sexual fanservice in shows. I get why other people might dig that sort of thing, but it just isn't my jam. To my surprise, there isn't that much at all, and when there is, it is almost all plot relevant.
The final element necessary for a show of this nature to succeed is consequence. I'm not talking like a slap when a girl finds out the MC is cheating on her, no, I'm talking real consequences. In School Days, this comes in the form of a particularly infamous scene, but what Domestic Girlfriend does is more grounded.
It's almost the perfect storm of elements, but there are a few things that held this anime back from being that coveted "10/10". When it comes to consequence, I actually felt like characters kind of got off easy with one thing in particular, though for the sake of the narrative I can accept it. Really though, it has to do with one side character in particular.
I can't remember his name, and MAL drops the ball yet again by not having all the characters and cast listed, but he's the male teacher that Natsuo gets involved with. He's actually a decent guy who helps Natsuo peruse his dream of becoming a novelist, but his introduction is flat TERRIBLE.
He says something to the effect that he shall be Natsuo's "master", and it was creepy. Then there is a scene where he asks his students to kiss in front of him (which does make sense to the show's credit, but this goes back to impressions). Finally, he's friends with this other guy who you aren't meant to like because he comes off like a slime as well. Again, this teacher ends up being fine, but that first impression really soured him as a character entirely.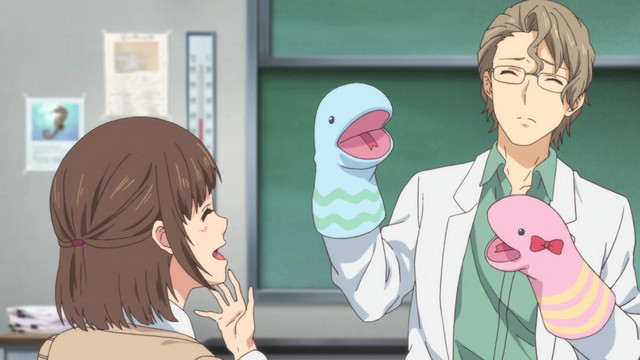 This is a real shame because the rest of the cast is fairly solid. Everybody fills their role in all the ways you expect, but are occasionally allowed to break from that and deliver a curve ball or two. Nothing spectacular, except maybe the ex-Yakuza, Kobayashi.
Doubling back to that comment I made about Natsuo wanting to be a novelist. That actually reminded me a lot of A Sister's All You Need. Surprisingly, perhaps, is the fact that these shows share a fair bit in common despite how different their plots are. I can't really put it into words, but I have the feeling if you liked one, you'll like the other. Domestic Girlfriend is the better show, but the other was actually pretty good as well.
I don't have a ton more to say when it comes to this anime. It was a great time that was fun to watch over the course of two sittings with Mr. and Mrs. K (my married friends). We all agreed that this couldn't touch School Days in terms of entertainment, but the fact that it got close was a pleasant surprise. The final verdict, we'd happily watch more.
---
What shows have you liked that you normally wouldn't? Did Domestic Girlfriend keep you glued to your seat? Let me hear your thoughts in the comments! If you would like to support my writing, please utilize my donation button below. Thank you for reading and have a great day!