Another Isekai, Am I Right?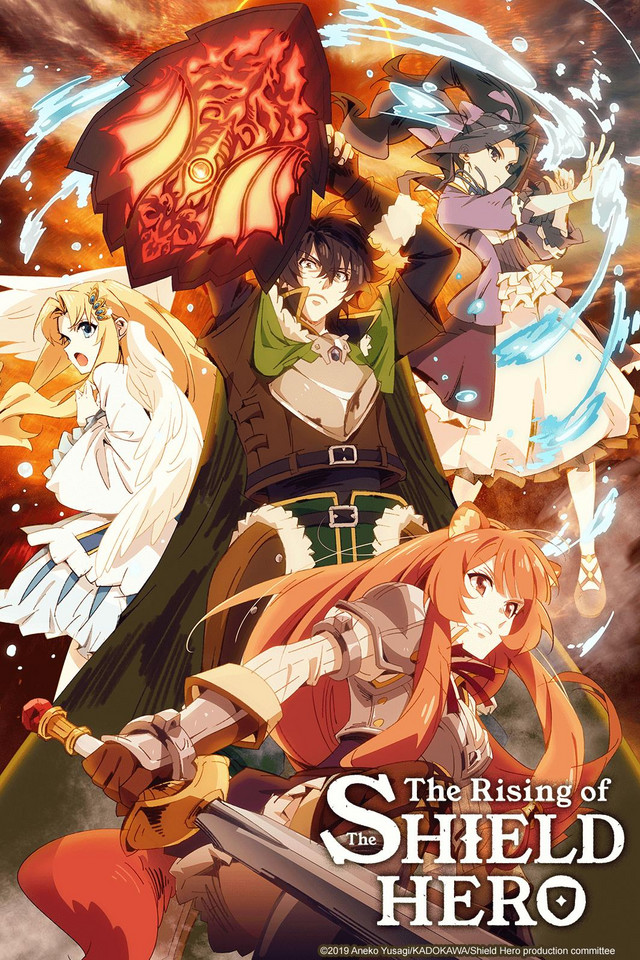 Jokes aside, when The Rising of the Shield Hero started in Winter 2019 it quickly caught my attention. Opening with an hour long episode, and what seemed to be an anti-hero story, I couldn't help but get excited! However, what the show actually became was a lot more. Despite some missteps, this became one of the better shows I watched in both the Winter and Spring 2019 season.
Naofumi is basically a NEET who gets whisked away to another world after reading a book about "four cardinal heroes". In the other world he finds the story of the book, which was very much incomplete, is unfolding before his eyes. However, this doesn't give him an advantage. In fact, compared to the other three heroes he knows next to nothing. What's worse? He got stuck with the shield…
Nobody seems to like the Shield Hero in this world but a glimmer of hope still exists for Naofumi when a girl named "Myne" joins his party. Unfortunately, things go from bad to worse when she falsely accuses Naofumi of attempting to sexually assault her. His reputation tarnished, with basically no supporters, Naofumi does whatever it takes to survive in this new world and save the people who hate him so much.
From my description, the show definitely sounds dark and edgy. Shield Hero certainly does have its moments (though toned down from the light novels) but it quickly moves away from the anti-hero story into something that is more meaningful. That said, it probably isn't surprising that this start sparked quite a bit of controversy.
What was surprising is that the controversy for Shield Hero did not start right away. It wasn't until a few weeks in that the conversation really kicked into high gear. Folks were upset at the false sexual assault allegations, which is a sensitive topic, but not one that was handled so poorly in the show that it warranted the outrage.
If that were the end of it, then it would hardly be worth mentioning. It'd just be another case of moral outrage at fictional depictions of things that do happen. However, people were upset again, and more so with the introduction of the character Raphtalia. A young girl who is part raccoon is bought by Naofumi from a sketchy slaver. The thing is though, he treats her extremely well and the slave part of the deal doesn't really come into play at all.
I know that a lot of Isekai shows like to have slave characters tossed into the mix but they are typically thrown in for sex appeal, power fantasy, or some other reason. Here the story really does demand it and the point about her being a slave is all but forgotten beyond the initial episodes. It's tiring to see folks complain about stuff like this every time it comes up without really thinking about why these elements were included in the first place.
On a more positive note, I loved the arc that Naofumi and Raphtalia have here. The almost father-daughter relationship they form is really cute (and you know I'm a sucker for that) but more powerful is that Naofumi empowers Raphtalia. She is inspired by him to find resolve in herself and discovers a reason to fight in this cruel world. It gives them a bond and dynamic that feels natural without being creepy, which it easily could have.
Their relationship evolves as the show progresses and is really the focal point of a lot of the show's big story beats. Sure, the world is in danger and Naofumi needs to deal with that, but despite that, it isn't put as the focus for most of the show's 25 episode run.
I'm getting a bit ahead of myself though because there is a lot more I wanted to mention about this early stuff that I was fairly impressed with. Shield Hero sets up a lot of things as "background" elements before they are later moved to being important to the plot. Some things are minor like a character who may help Naofumi while some can be major, like whole arcs! That's just really cool and not something a lot of anime take advantage of especially.
I talked about this in my article, "When an Anime Shows & Tells – A Discussion Ft. Waiting in the Summer and Hitoribocchi no Marumaru Seikatsu" not to long ago where I mention that including these little details can elevate a show that much more. I purposefully left Shield Hero out of that discussion because I wanted to mention it here. It is such an integral part of how the narrative unfolds that it was really the ultimate example as far as recent programming goes.
There is a whole lot more that I could say just about the opening episodes but let's move on a bit. I want to talk about another thing that got me really excited about Shield Hero that made me want to stick with it all the more. This got a (sort of) simuldub! That has become less of a rarity as time moves forward, but it was extremely unexpected.
Crunchyroll didn't start rolling this out until a few episodes in. Oh yeah, did I mention Crunchyroll was who got this dubbed? For a site that is largely sub only, I was absolutely taken by surprise with this sudden announcement and release. What's more, the dub was really good! I even switched languages mid-show AND rewatched the first few episodes, which is just unheard of for me.
Ok, I think I'm ready to get back to talking about Naofumi and Raphtalia. In the first opening of the show (which is really good by the way), there is this excellent scene:
Raphtalia rushes to Naofumi for comfort initially but she herself becomes Naofumi's ultimate salvation. Now this is a bit corny and can be construed as pandering to an otaku viewer base, but the imagery is SO dang good and it manages to resonate with me so strongly that I genuinely believe that this wasn't the intent behind this scene which mirrors how the plot progresses in the first half.
An aside, I'm glad they kept a similar bit of imagery in the second opening. I didn't care for that one overall as much, but it nearly always feels that way when a show switches OP's. Love the music though, gets me pretty hype.
While Naofumi helped a young Raphtalia discover what she wanted to fight for in this world, she does so for him (as I mentioned). In a moment where he is at his most low, consumed by hatred and rage, she comes to him and tells him this fact. In the midst of this he too comes to realize what he should be fighting for because he does care for her. It's a nicely packaged story that works. Is it perfect? No, but that's ok.
Where the anime begins to falter is with the introduction of Filo. She starts off as a bird egg purchased by the slaver, in a gacha-like gimmick, but becomes a fully fledged member of the team when it is discovered that she can transform into the form of a human child. While I do like her, the pacing of the show was kind of ruined at this point. The focus was also shifted to these side stories, that were of consequence, but some of this was straight filler.
Still, even in this I did find value. As an avid role-player, this gave me some ideas so I can't say it was a total waste. However, the idea of Filo being a romantic rival for Raphtalia, who unsurprisingly develops feelings for Naofumi, is a bit ridiculous.
That reminds me… there was another point of controversy with Filo. The first time she appears in human form she's naked with Gadiva hair. It was such a minor thing and not a big deal but what does that matter? It caused waves on Reddit and it just gets me in a baffled furry just thinking about it now.
There's the pic above for reference. That's it, at the end of an episode for a few seconds. Man that is just too lewd, am I right? I've mentioned it before but this whole loli thing and moral panicking and politicizing about every… single… thing… in anime is so exhausting. I can't help but derail my article on Shield Hero even further because I'm just sick of it. This isn't meant to offend people, and if I am, sorry, but as a fandom folks really need to grow up. Discourse is important but…
Where was I? Right, so Filo here derails the plot a bit, kind of like she did for me here. That said, things do recover and she plays a more important role later. Compared to even the B cast though, she lacks some screen presence which is kind of unfortunate for how much she actually receives in the run time.
Shield Hero kind of does its thing for a bit, having Naofumi clean up the other heroes' messes. The benefit of this as a viewer is you get to really see the world and how the other heroes aren't really helping despite the well-meaning deeds they perform. Naofumi is really helping people, even if he doesn't always act the part. It makes the world feel lived in. As to the other heroes, on the whole, they aren't really that bad with exception of the idiot Motoyasu.
You aren't meant to like him but I thought the show pushed that a bit too far. He's easily manipulated and the biggest source of problems for Naofumi among the heroes but what put him over the edge was how fanatical he was about getting his hands on Filo. He's got a thing for angel girls apparently and it was just over-the-top weird. It was unnecessary.
Once you break past this part though the show really opens up again. Raphtalia has a chance to confront her past and you get to see her growth as a character. It was really satisfying. The episode where you get her whole backstory, as opposed to the truncated version you get early in, was really powerful. It wasn't like it was innovative or anything, but it was handled really well.
I know I said earlier that from the outside this might sound kind of corny, but I really don't have a better way to put it. Shield Hero managed some sentimental moments that just worked. Some may dislike them, because there is obvious and unabashed emotional manipulation in this anime aplenty, but when it clicked it just managed to achieve that sweet spot that I personally really look for.
The rest of the show deals with Raphtalia feeling concerned that Naofumi is preparing them for the day he's gone, either in death, or when he returns to his world by choice. She clearly doesn't want this but Naofumi hates this world. There's good reason in it though, it has not done him many favors.
While this specific struggle takes place, the broader implication of the "waves", a cataclysmic event that must be stopped, still lingers. Not only that, but internal threats via the church become an issue as well. The mystery is expanded with the transparent "reveal" of other heroes from other worlds, and that was pretty cool to see on top of things.
For these final episodes what I could only criticize the show for is the kind of cringe worthy moment when Naofumi is offered redemption. The renaming sequence with "Bitch" and "Trash", while kind of funny, is a bit much. I have to admit though, this was a satisfying moment despite this and it was another opportunity to demonstrate that Naofumi really has changed during the course of the show.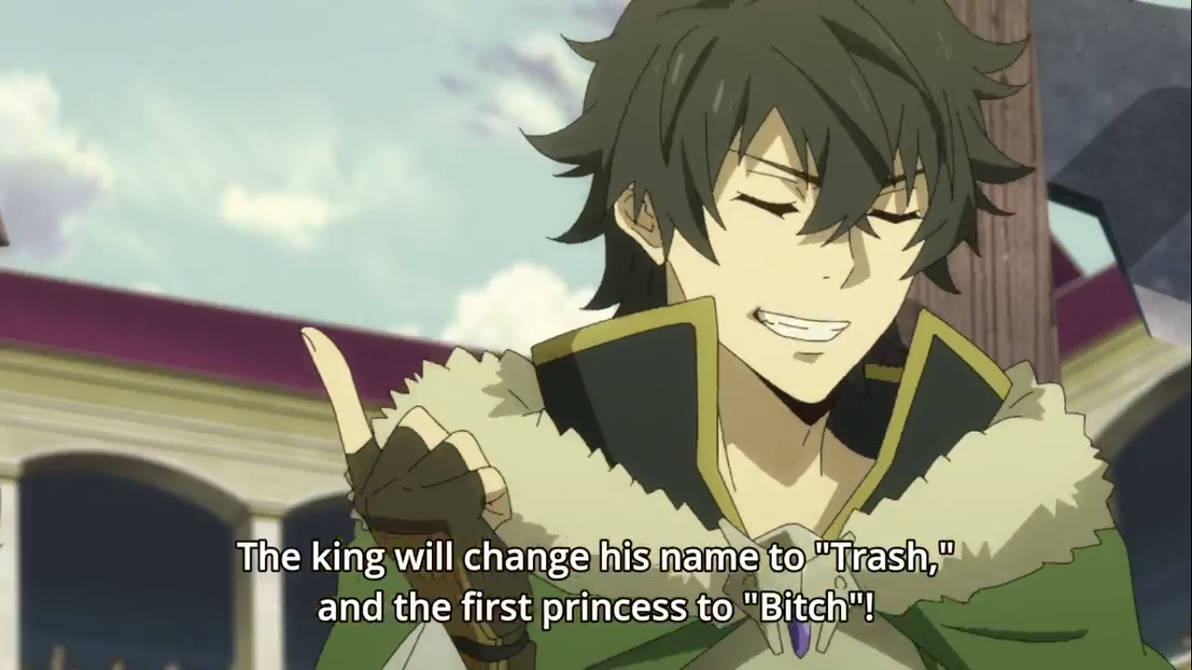 Like I mentioned earlier, this starts off like a classic anti-hero show but by the end of things, he's the closet thing to a real hero than anyone else in the show. Shield Hero does a bait-and-switch on you, which may leave some viewers feeling betrayed, but the message here is a good one. Even when you are wronged by others, that doesn't need to stop you from doing right.
The theme of forgiveness is really strong in the show, and you see it over-and-over again. Raphtalia gets to forgive the man who brutally tortured her and her people. This resulted in the death of one of best friends. Naofumi forgives the people who harmed him most, sparing their lives. He learns to trust and tries to repair his relationship with the other heroes. These are incredible feats.
It's easy to get caught up in these things and lose yourself to some degree. Shield Hero literally demonstrates this multiple times when Naofumi uses his "rage" shield. Being able to let go of these negative emotions and move forward in a positive direction is a great message and something I appreciated quite a lot from the show.
Finally, I want to mention the finale. Naofumi makes a huge gesture to Raphtalia, which should result in her happiness but she instead breaks down and begs him not to abandon her and this world. Only, he tells her she is wrong. At first, he did things to prepare her for that day, but now, he has made this gesture to show that he has found his reason to fight, to stay in this world. His friends showed him that there was more to life and that it was worth protecting. I couldn't think of a better way to end the season.
---
I hope we get more Shield Hero moving forward. I'd love to hear your thoughts on the show and what I wrote here. If you enjoyed the read and want to support my writing, then click my Ko-fi button below to give a small donation. Thank you so much for reading and I hope to see you back here again soon!