Like Watamote, but less Cringe
Hitoribocchi no Marumaru Seikatsu, or as I'm going to call it, Hitoribocchi, was one of the only shows I watched from the Spring 2019 lineup. Not much caught my attention but this did for its cute character designs and extremely goofy cast. Over the 12 episode run the anxiety riddled, titular Bocchi, attempts to befriend her entire middle school class so she can one day reunite with her friend. So, how'd she do?
I heard this show described as one where the plot can only happen if most of the characters involved are really stupid, and I kind of agree. Bocchi is such an unbelievably dumb person on top of having difficulties speaking to others. It is really obvious why her friend, Kai, pushed her to befriend her whole middle school class. However, I don't really see anything wrong with that so long as the show is entertaining. Which, I think this anime succeeds at.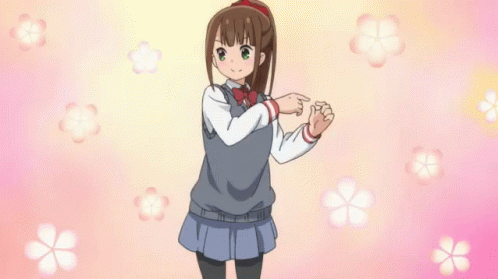 What mostly caries this show is its cast. Bocchi has and company have great designs as well as onscreen chemistry that kept me coming back each week. Particularly when the character, Aru, was introduced. At first she was so obviously fake that I almost got turned off to the show entirely, but then it is revealed she is just an unfortunate person who overcompensates as a result. Example, coming to school with a coat hanger sticking out of her uniform. She ended up being my favorite character in the show.
This character song is actually really good and captures Aru's perfectly
I already mentioned this show back in my article "When an Anime Shows & Tells – A Discussion Ft. Waiting in the Summer and Hitoribocchi no Marumaru Seikatsu" where I talked about how sometimes little details make a show all the better. This is one of those shows were nothing is revolutionary, but because of this effort, Hitoribocchi manages to be more enjoyable than one might initially expect.
In several ways this reminds me of Watamote, another anime about a socially awkward girl except it isn't as cringe-worthy. While I ultimately think Watamote is the better of the two for how inventive it gets with some of its presentation, alongside being generally funnier, Hitoribocchi has a leg up in consistency. It's also more wholesome. If you didn't like Watamote but liked the idea of it, this may be for you.
If I had to criticize the show for anything it is actually when Bocchi bumps into Kai part way through the series. Bocchi has succeeded in making some friends at this point but in spite of that Kai refuses to even say "hello" to Bocchi. This has the unfortunate of effect of making you kind of hate Kai. While you get her intentions at the start, it is ridiculous that she can't even do a basic greeting or anything. The show plays this off as an emotional moment that is somehow positive, but it just didn't play right.
Disregarding that little hiccup, the rest of the show that consistency in what it delivers. A few chuckles and a good enough time. As I've already stated, this isn't a groundbreaking show but it doesn't need to be. In a season where I didn't have a lot to watch, it was something nice to tide me over. If you are on the fence about this one, you should go ahead and give Hitoribocchi a watch!
---
What were your thoughts on Hitoribocchi? Have you read the manga? Let me hear your thoughts in the comments! If you would like to support my writing, consider pressing my Ko-fi button below and making a small donation. Thanks for reading and have yourself a wonderful day!