Gonna be Real, Pretty Lukewarm on This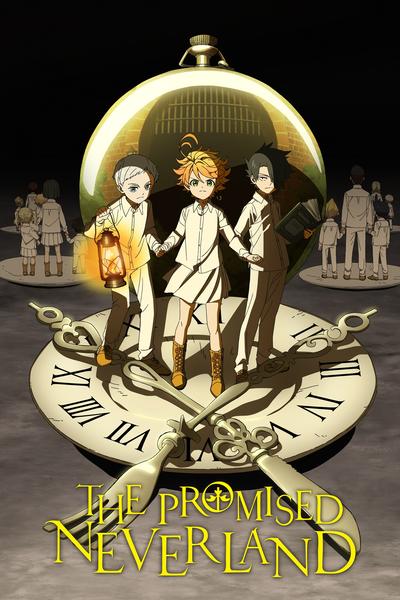 I know it's not everyday that we get a horror anime, or something that even gets close to touching the cat-and-mouse of Death Note, especially not as a Shonen Jump adaptation, but The Promised Neverland never reached the heights for me like it seemingly did for everyone else. This isn't to say that I didn't enjoy it, I totally did, and it had some great moments, but overall this was a pretty standard experience for me. Outside of (jokingly) suspecting Phil each episode of course!
Our story is about three kids, Norman, Ray, and Emma. They all live idyllic lives at Grace Field, an orphanage, with their beloved caretaker, Isabella, whom they refer to as "mamma". I shouldn't even have to explain where things go from here. Insert quote about, "then suddenly, everything changed when they learned the horrible truth" or whatever. It's extremely obvious right away that this isn't going to be some happy-go-lucky anime.
Just looking at the iconography of the poster for the show gives it up. The entire first episode twist isn't even trying to be hidden. I actually don't think this is that big of an issue but the show received a lot of praise for this first episode. While I think it is a decent episode, The Promised Neverland is not really good at keeping things to itself. The mystery elements are lacking.
Really the focus is on the back-and-forth of the kids who learn the truth and their caretaker. They want to escape their fate but are at a severe disadvantage, despite their great intellect. For awhile, the show totally gets away with having some slower pacing by consistently working at this goal. New threats are introduced in Sister Krone, and there are some genuinely creepy changes (some of which weren't even in the original source material).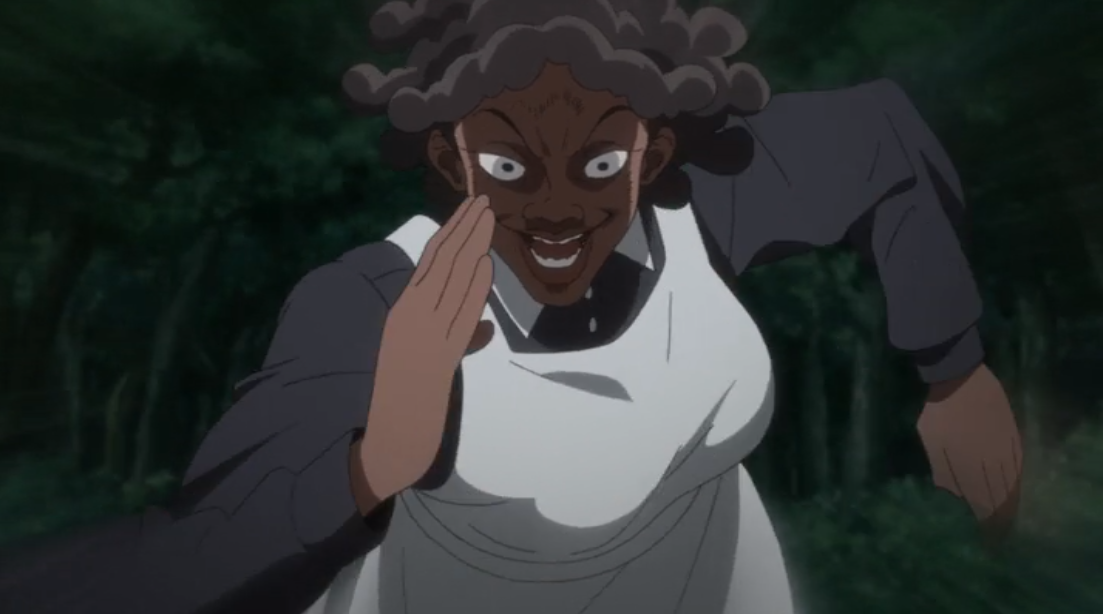 However, there were a few points where the pacing took notable hits. The first being when the kids discover the secret code in the library, which seems like something relevant for season two, because it doesn't go anywhere. They spend almost a whole episode on it though, which just feels kind of wasteful. Second time was when Ray revealed the dumbest piece of information I've seen in awhile.
Not even gonna label this as a spoiler, because it is that stupid. Ray states that he can remember everything since he was a FETUS. Not like, a baby, or something, nope ever since he was in the womb. While this is a real thing (though very rare) for very young children, it just completely ruined the tension of its episode. I constantly made fun of it, because the show kept reminding me about it.
When Neverland is on its game though, it is good. It doesn't reach the same heights, but has a quality that reminds me of Death Note. Watching the kids and the caretakers try to stay multiple steps ahead of each other was a good time… usually.
Speaking of the characters, that is where the show does its best. The kids are a little one-note, but Isabella especially has a lot of depth. As the main villain of the season, she is sympathetic and quite nuanced. I loved that they also tied in this musical motif (should mention, the music for this show is easily the best part) into her backstory for the final episode, it was a great touch.
Whenever she was on screen, Isabella always had this looming presence. Almost like she was giving the kids these condescending looks while pretending to be an ideal mother to them. However, she does does all of this with good reason. I can appreciate her situation and why she works so hard at getting these kids to believe the lie of their perfect lives, and stopping those who do realize the illusion.
There's a scene where Isabella offers Emma a job like hers when she discovers the truth and it is totally reasonable. Unlike a lot of folks, I don't think Isabella is actually an evil character. She's just a person making the best of her desperate situation. In the end, she isn't really even trying to stop the kids from escaping or knowing the truth.
This brings me to the ending. I did find this to be the best part, not because it was over, but the resolution to all the buildup, which is 90% of the show, was finally given. Isabella had her fantastic character moment, and things wrapped up nicely with room for the upcoming second season.
Come time for season two, I will be watching but I'm not dying to see it or anything. Ultimately The Promised Neverland was a decent show with a good first season. It's going to really need to step up in season two though. If it manages that, I think this has the chance of being a great horror/mystery show that will be talked about for a good time, but time will tell on that front.
---
What are your thoughts on The Promised Neverland? Was this your top show of the season or were you like me, and just kind of enjoying it? Let me hear your thoughts in the comments! If you feel like supporting my work please make use of my donation button below. Thank you for reading and I hope to see you back here at Jon Spencer Reviews again soon!