All Things Must Come to an End
This collab with Yomu has been a ton of fun! Watching Art Club each week has given me something extra to look forward to, as well as providing me with some unique ideas for articles. If you want to check out everything so far for episodes 1-11, you can do that here. Be sure to head on over to Yomu's place and thank 'em for putting this thing together. Today I'll be tackling a few themes from the list, which includes reviewing the anime on the whole. Let's dive in on this final installment of the Art Club collaboration!
Theme 1 – How you felt at the beginning of the anime compared to the end?
At the start of the show I was fairly lukewarm on the whole thing. I even stated that I thought something might come out of it by the end based on the effort that was randomly placed in certain shots. Well I was kind of wrong on that front because you are not going to get ANY resolution from this show whatsoever. It's the biggest tease I've watched in a long while.
First, some stuff I did like about the episode. The parallels to the first episode, where shots were nearly identical, was a brilliant touch. Additionally, the staff put some extra effort into a few scenes like episode one that were, again, fairly similar to that of episode one.
I also enjoyed Collette (shocking, I know) when she was running down the hall excited about her, "Kappa Kappa". This is a funny joke since the word Kappa has two meanings. Collette's whole character are all of these ridiculous puns and absurdity, I love it!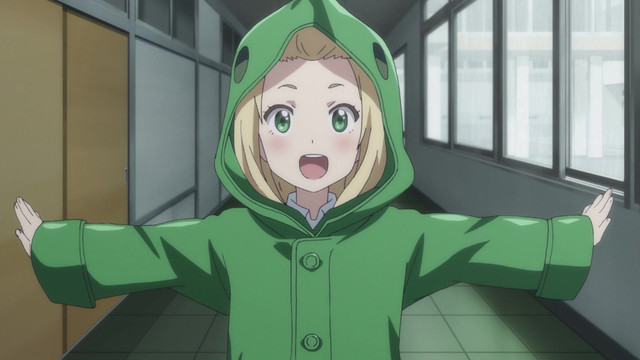 That's where anything nice I have to say for the episode stops. It was a frustrating watch that even attempts to get your hopes up just to troll you in the end. I would have much preferred a fun episode that didn't touch the romance angle over this awful "conclusion" they offered here.
Art Club's ride has always been a bit up and down, but I would have said that up until this final episode, that the show had generally been trending in a positive direction. Episode 12 takes all of the goodwill that its bought and throws it back in your face, spits in your eye, and calls your mother a hamster before stating your father smells of elderberries!
This just barely reaches the bare minimum of what I want out of an anime. Discounting the last episode, I would have probably given this a comfortable rating between 6-7, but it dropped to a 5 after this. It's not like there isn't a good show here, or that I always put a ton of weight into an ending (though I do believe it can make or break a show), but this was one sour taste I won't be getting out of my mouth any time soon.
Theme 2 – Would you recommend Konobi to a friend, and why / why not?
Given everything I've said so far, you might be thinking the obvious answer to this is an emphatic, "no" but you'd be wrong. I'd actually recommend this anime to friends under two circumstances. The first being that I want to troll them, just like the ending does. I don't do these mean-spirited recommendations often, but when I do, its because I actually think the general experience overall is a positive one. I stand by this for Art Club.
Circumstance two would be for somebody looking for a show to just put on and passively enjoy. This series doesn't really require a lot of investment or attention to be entertaining. I'd be sure to properly stress that the ending isn't very good, but the rest makes for a comfortable watch on a rainy weekend.
As I've mentioned, up until the twelfth episode, I was generally enjoying this show and was prepared to give it an average rating (for me that's a 7/10 if you are a numbers person). While this wouldn't be at the top of the list for shows I'd recommend to other people, I could see myself doing so at least.
Theme 3 – In the end, what was the art club's problem?
In a development that absolutely NO ONE could have seen coming, it was Subaru. He was by far the weakest part of the series, a terrible character, and the root of nearly every problem I have with Art Club as a piece of entertainment.
I guess I also took a bonus fourth theme here: Final chance to bash Subaru.
Look, it wasn't like this guy never did anything good in the show, but overall I just couldn't stand him. A lot of the comments on the Crunchyroll video were about how cruel he is. Sometimes he doesn't mean it, sure, but at a point it is so obvious that Usami has feelings for him and he seems to do things just to spite her. You'd have to be beyond dense to not pick up on something and have some tact at least… especially at the end here.
---
That brings us to the end of our journey for this collaborative effort. Thank you once again to Yomu for putting this whole thing together! I'd love to hear your thoughts about the overall collab, if you'd like us to do another, and of course, what you thought of Art Club if you were watching along at home. If you feel like supporting my work, I'd appreciate it. You can do so via the donation button below for my Ko-fi. Thanks for sticking with us all this way!