A Gonzo Show! I loved it… Right?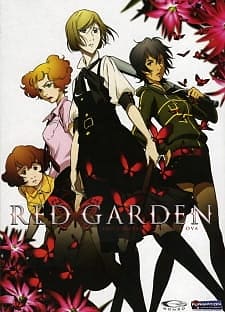 You might not have heard of this bizarre anime from the Fall 2006, so let me do my best to explain this one a bit. Wish me luck:  
A series of strange suicides have been plaguing New York. Four girls from an elite high school find themselves in a strange situation when they realize their friend is one of the suicide victims. That's when the butterflies appear and rip Kate, Claire, Rachel, and Rose from their normal lives. They are all quite different, but circumstance has forced them together. Upon following the butterflies, they meet a man and a woman who inform them that they are dead and now must fight for their right for continued existence.
That, or I could have just said, this is a lot like Twilight but if it were somehow more poorly written, acted, and WAY more enjoyable. Even if horror-comedy-musical-tragedies aren't normally your thing, you may very well still want to check out Gonzo's Red Garden. Let's dive right in and find out why.
OMG, I've never seen this trailer before. Most anticipated horror-action of the YEAR guys! 
The first big thing about Red Garden is that director, Kou Matsuo, has this weird fascination with Western media. One thing in particular being musicals. For the first handful of episodes in the series, sometimes a random, in-character musical number breaks out. These don't add anything to the show, but knowing that was enough to peak my interest.
What's more is the crazy story format. It jumps all over the place. Sometimes it is a slasher show, a comedy, romance, etc… when I read about the plot a few years back, I just knew that this level of out-there was something I'd enjoy. I was right too, but it also was more of a slog to watch than expected.
Red Garden suffers immensely from pacing. This isn't helped by the inconsistent format, poor acting, and generally bad writing. Plot wise, it actually isn't hard to follow, but the dialog and events are an absolute mess.
The Western influence did bring about some more interesting things for the show though. For example, setting the show in New York, most notably Roosevelt Island, was a nice touch. The girls, while design wise not always the best, wore unique outfits that were generally believable. Additionally, the socioeconomic differences between its cast were more highlighted here, even though they all attend a rather prestigious school.
There were a lot of little touches like that in Red Garden that added to its depth when it wasn't being a totally bonkers genre blend of a story. It also knew how to restrain itself and tell human stories that actually mattered. They were far-and-few between, but it was a nice break from the supernatural drama.
In essence, this is a vampires vs werewolves story. The girls are newly-made vampires, except they suck lemons instead of blood. Really, they are more like zombies, but the show also gives them vampire powers. Werewolves are part of this other clan and are the rivals of the vampires.
Both sides are under a curse due to some dumb thing that happened a long time ago. They each resent the other side, and want to solve their own problem without helping their rivals. However, there is a twist. If the girls win the day, they'll lose all of their memories and become immortal.
Upon this revelation the Red Garden really gives this time. The final battle brought things to a fairly decent close, and the series ended on a decent note. Then the OVA happened.
The OVA takes place far into the future and all of the girls have taken on new personalities. They have no memory of who they once were either. For whatever reason, all the other characters are also in this OVA, which ends up being funnier than expected. The OVA turns things into a futuristic sci-fi action-mystery with mecha in it for good measure. Seriously, it is bizarre.
That's the appeal of Red Garden though. It's so utterly unique and interesting that calling it outright bad would be a disservice. It certainly isn't good, but it does entertain. There are some very slow bits, but ultimately, it was worth the watch.
I should note that watching this either in Japanese or English made no difference. Both tracks are intentionally done poorly. I went with English because it was easier to understand and the atrocious singing was a lot funnier to me. You'll probably want to flip subtitles on for at least that though, you can't understand them well when they sing. Partially because they are BAD, but also because it is really quiet.
Sorry the quality isn't the best. This was the only good example I could find. Check out the OP & ED's for the show though, those are legit good.
I'll link to one of the songs here so you can see what I mean. It's probably the best way to sell you on the show, as counter intuitive as that may sound. Gonzo certainly has put out a lot of shows I've loved, and while Red Garden doesn't quite measure up to their other works, I still think this one was a valuable edition to my collection.
---
Have you seen Red Garden? Be sure to share your thoughts. Additionally, what is your favorite Gonzo show? There are a lot to choose from! If you enjoyed this article, consider dropping me a donation via the button bellow. Thanks for taking time out of your busy day to read and I hope to see you back here at Jon Spencer Reviews again soon!