Looking for a Little Love?
Whether you are looking for an anime to cuddle up to with your significant other, or you're ridding solo and just looking to fill that romance void, I've got you covered. Here are three anime that are perfect for this romantic time of year. Of course there are plenty more great shows aside from these, but if you don't see your favorite title on the list be sure to mention it in the comments! With that, let's jump right in. 
1. Love, Chunibyo & Other Delusions!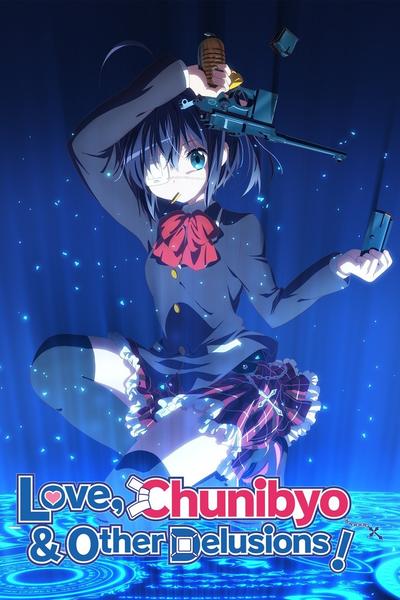 Chunibyo is one of my personal favorites. It was one of the first light novel adaptations I ever watched and it really delivered. On the surface this is a pretty goofy comedy about the childish fantasies and delusions we've all had when we were younger. It's about growing up and coming to terms with letting that stuff go, but should we totally abandon these things? Not only that, but the romance is very cute.
What impressed me the most was how serious parts of this show were. It isn't just a goofy comedy with romance elements, something I had come to associate with LN titles before watching this, and that's what really sets this apart from the sea of similar-ish titles I could recommend in place of this one. It'll bring the feels, but in the best of ways.
I want to keep things short but I'll leave the trailer below so you can get a glimpse of it. Not only that but I'm also linking to MAL for all of these too. If you haven't seen this one yet, then you should certainly check out Chunibyo!
2. His and Her Circumstances
A bit of an older title, but one of the single best romance anime ever produced. It has some glaring issues (like the excessive amount of recap episodes and lack of an ending) but don't let that keep you away. This is a gem that shouldn't be lost to time. Need more convincing? Hideaki Anno, of Eva fame worked on this project as co-director, so you know it's coming from a special place.
It's often easy to overlook older titles like this but I wanted to be sure to include an older one, especially one of quality that stands up even today. While it still has its fair share of troupes, His and Her Circumstances will likely be a breath of fresh air for hardcore romance fans. You can view a bit more about it here.
3. My Love Story!!
Lastly, but certainly not least, is this sugary show. My Love Story!! may just be a bit too saccharine for some, but I can't think of a better show that screams, "Valentine's Day" quite like this. Takeo has always been a bigger lad who's used to girls falling for his handsome friend, Sunakawa. That's when he meets Rinko who seems interested, but surely not in him, right?
It's a bit of a subversion from your typical Shoujo romance, but still offers all of the best aspects of a series along those lines. Watching Rinko and Takeo together across 24 episodes is a delight. While it does get a bit repetitive towards the end, it still is a good time that is sure to go over well for Valentines. MAL profile here if you'd like a bit more info.
---
What other shows would you recommend for this time of year? Have you seen all the ones on this list? Let us hear your voice in the comments below! If you'd like to support my writing please click the donation button below. As always, thanks for stopping by and I hope to see you back here at Jon Spencer Reviews again soon!