CONGRATULATIONS!
Thanks to YOU and the efforts of the community Jon's Creator Showcase is now celebrating its first successful year! To think, this project was almost completely shutdown after the first month of operation, and there was a bit of a rough patch towards the end, but everything worked out and it is now a fairly beloved staple in our community here. To every single person who has hosted, submitted, or promoted the project in any way:
THANK YOU!
Seriously, this project would not be possible with out the support of people like you, and that includes YOU reading this post right now! I need to give extra special thanks to Raistlin who helped prevent this project from totally dying out. If it weren't for his passion for this project, we wouldn't have it today. I know he is on a bit of a hiatus right now, but be sure to thank him on Twitter @online_raistlin because he deserves it.
Individual thanks are also due to every single person who hosted, you are all wonderful folks. If you aren't already following these people, please be sure to do so and thank them for helping put on this community event.
Some folks have come and gone, some have become very successful, and others are business as usual. Regardless of your current circumstance, I wish you all only the best and hope that being immortalized in these posts brings you some joy 🙂
The 2018 Complete Collection & Info on the Project
Not sure what I'm talking about in regards to the Jon's Creator Showcase? Did you miss any of the previous year's editions? No worries! I have collected each month's issue into one convenient place for you to peruse and enjoy. Not only that, but you'll also find helpful information linked there as well. You can read up here!
Here's to a New Year!
With a new year comes new opportunities to learn and grow. Naturally, the same can be said for Jon's Creator Showcase. This year I have a few goals for the project that include:
More participation outside of the anime community. I love the anime community and we have had a good amount of participation outside of it before, but I'd love to see other hobbies and interests represented EVEN MORE. This could be travel, board games, film, literature, or anything really!

Post type variety. Unsurprisingly nearly all of the content featured in our monthly issues are text posts. That's awesome but wouldn't it be cool if we had image posts showcasing art, video, and even podcasts? It think so too! I want to encourage more content creators to participate beyond the blogging community.

Personally, I'd love it if just one person with a big following participated this year. They often get linked but ignore joining. The showcase is for everyone, big or small, and we want to celebrate the wonderful creations that YOU are putting so much effort into creation. Don't think you are ever too big or too small for this project, because, you aren't.

On the same side of the coin, I'd like to see a hand extended to smaller creators trying to get off the ground. It's hard to get recognition so be mindful of who you nominate in this next year.
Outside of these goals I have a few things I'd like to do with the showcase but I'm not 100% sure how to go about them. If you have an idea for how I could execute on this or want to assist me in achieving these more nebulous goals, please be sure to contact me at jonspencerreviews@gmail.com, my Twitter, or leave a comment below:
Generate some income for the project. This money would be used to thank hosts via a small donation, do giveaways, and commission artists to keep our logos, banners, and other promotional items fresh. Right now there is nothing wrong with what we have, but it's just one more way to continue to promote artists and content creators, which is the goal of the project after all.

I mentioned giveaways up there. I'd like to do some kind of promotional event alongside the showcase (or as part of it) but I don't have a clear outline of how this would be executed or if it would be every month or just some months. Right now this is just an idea.

Lastly, I think the showcase should form a formal network of supporters. If you LOVE the showcase then please contact me. This might be linking to information about the showcase on the main page of your site along with a retrospective about hosting/why you love it, helping new hosts handle their hosting duties, or maybe something else? The craziest thing I could imagine happening here is getting a big name sponsor or something, but I'm not really expecting that, even if it would be cool.
A lot of folks have already agreed to help out this year, and I want to sincerely thank you. Please be sure to reach out to me if you need help and don't be afraid to try new things out with the project. Mix up the format, take risks, but remember the most important thing, have fun!
Hosting Announcement!
Last up we have my announcement for hosting this month. I've come back special for the anniversary of the showcase to host once again! This time I'm doing something a little bit different so be sure to read all the details on how to participate and the special extra bit at the end.
Submissions will be open from today (1/4/19) through (1/28/19). I will need a little buffer time to put the post together and look over every submission. This can be a lot of work if there are a lot of submissions, otherwise I'd leave it open longer.
If you'd like to make a submission just follow these simple steps:
Select your favorite creation from December 2018 that you would like featured in this month's issue of Jon's Creator Showcase. This can be on any topic in virtually any format (

NOT JUST ANIME

)

 so long as it does not violate these rules:

Must be your own work. Do not repost other people's stuff unless you have their direct consent and can provide that for me.

Only one submission per person unless expressly given special permission from the host (me).

Do not spam a submission. Posting once is plenty. If you want to promote your submission more, just share the larger submission tweet.

No hate speech, promotion of illicit activity, or generally inappropriate content.

All content must be comprehensible; preferably in English, but other languages are O.K.

18+ content is fine but it MUST BE LABELED as such.

If possible please go to Twitter and make a comment using the hashtag #TheJCS (NOTE THIS IS DIFFERENT THAN LAST YEAR PLEASE READ*

) on the original announcement tweet. It is totally fine to tweet at me, however, so long as you include the #TheJCS. Alternatively you may always make a comment here with your submission or email me at jonspencerreviews@gmail.com if you don't have a Twitter.

Choose at least 3 other individuals that you would like to nominate to participate in the showcase along with your submission. This can be anyone you think is an AWESOME content creator that you think more people need to see. Know an awesome singer? How about an underground artist? Or maybe you just want to promote your buddy? No matter who you choose I'm sure they'll be flattered that you LOVE their work and want more people to know it!

Have fun and read up on the other submissions. While you can wait for the final issue, why not see what other folks are submitting? Of course, I want you to have fun too!
Contest!
For the anniversary of the project I'm also doing a giveaway! It's really easy, all you have to do is submit an entry to the showcase, that's it! So what exactly is the prize? You may remember this tweet I made awhile back:
I'll be giving away one free DIGITAL copy of the gorgeous tabletop role-playing game, Ryuutama. Loving described as, "Hayao Miyazaki's Orgeon Trail" this game is great for people looking to get into TRPG's or seasoned veterans. For more info on the game, please visit this site. On top of that the winner will also receive some extra digital goodies to help make playing the game easier, all in one neat package emailed directly to you.
Still not enough? The winner's submission will be featured right at the top of the issue as the main feature! You'll get links to your site, Twitter, the works. I'll even write up a detailed description of what made your submission so INCREDIBLE and why you are this month's featured creator!
The winner will be decided after going over each submission. For each category one submission will receive a nomination from myself to be placed into a hat and drawn randomly to determine the winner. This is done to prevent me from comparing apples and oranges, as well as to give each respective type of category an equal chance. The categories are as follows:
Written word – Examples include:  Reviews, Top Lists, or Short Stories.

Video – Examples include:  YouTube or other videos.

Audio – Examples include:  Podcasts, Music, and other audio only works.

Art – Examples include:  Drawings, Paintings, or Photography.

Other – Anything that doesn't fit into one of the above.
All nominations will receive a special recognition even if they don't win. After all, you made something that stood out!
While not required, hopefully this will become a new mainstay feature for future issues of the showcase. Since each monthly edition of the showcase is a lot like a magazine issue, I think it is only appropriate. Still, this is something I'll ultimately have to leave in the hands of the community, but in a worst-case scenario, this will be a special anniversary edition!
Here's to a new year and seeing even more great content. Cheers!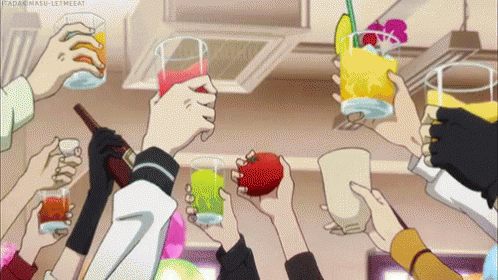 *At the request of previous hosts the # has been changed to provide more room in tweets to write about their submission, tag others, and of course link their submission. You may still use the previous # but the use of the new one is encouraged more.