Sleeping is Wonderful
Most people I know really enjoy sleeping. It is one of their favorite activities after a long day. Who can really blame them? After all recharging and waking up refreshed is a nice feeling. Now imagine that if you went to sleep that you would die. This is the premise behind Rooster Teeth's mystery thriller, Day 5. Come and explore the apocalypse with me and see why you should check this amazing series out!
There are a lot of apocalypse shows and films, with more coming out each year. Usually these focus on a natural disaster or involve zombies in some way. This isn't the case with Day 5. It's a silent apocalypse that happens in the middle of the night with those (un)lucky enough to survive it being the moonlighters, drug addicts, and insomniacs. Despite the lack of zombies, the series has an atmosphere that is suspenseful and unnerving. 
For Rooster Teeth's first foray with this type of series the end product was quite impressive. I'm not a fan of Rooster Teeth by any stretch of the imagination but I have been known to enjoy a few things from them on occasion. Most notably their series Camp Camp, Million Dollars But…, some RWBY, and, obviously, Day 5. These guys tend to try and be funny in a way that can sometimes feel overly goofy. It's a style of humor that isn't for everybody and usually doesn't work for me. However, Day 5 has very little of this signature humor. It is largely a serious show that places emphasis on its characters and the various trauma associated with initially surviving the apocalypse.
Day 5 has you following Jake, a drug addict who slowly discovers that most of humanity has died after falling asleep. He eventually teams up with a young boy, Sam, as they try to make the best of a bad situation. As time passes others join them to discover the truth behind the sleep epidemic and hopefully find a way to save themselves (and get some much needed rest).
Season 1 spends its time letting you get to know the cast and setting up for the bigger picture. There are a lot of things that happen in these six episodes, so I'm only going to focus on some of the more interesting things, but trust me, these are far from the only interesting aspects to the show.
Jake is easily the most interesting character in this season. He's a junkie but he does want to turn his life around. During this season he is constantly haunted by the deaths of various characters and his guilt for being a survivor. The most obvious example of this is a little girl, Megan, who taunts him during hallucinations brought on by sleep deprivation.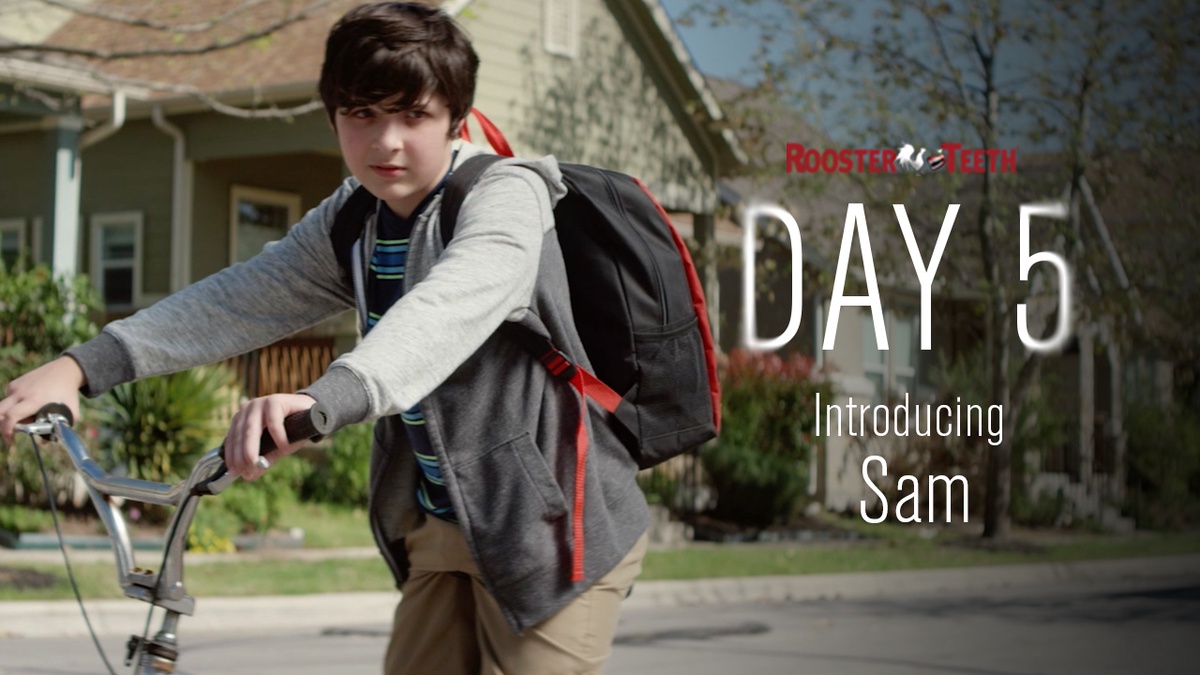 Jesse C. Boyd as Jake, really carries the first season. It's a slower season that isn't always the best, but since this character is so interesting I couldn't help but want to know more. Not to mention the dynamic his character has with Sam, which was really fun to watch.
Season one also tackles some broader morale issues, which was particularly interesting. This is a minor spoiler so feel free to skip this part. Eventually the group does wind up at a hospital that claims to have a cure for the sleep epidemic. It ends up being a half-truth since their, "cure" does let you sleep but only for a few minutes before you have to be forcibly woken up. The side effect of which is horrible nightmares, which ties back into my previous example.
The morale implications factor in with how the hospital stumbled into this, "cure" of theirs. A genius Dr. by the name of Abrams was able to figure this out by experimenting on several children (for reasons that are explained in the show), ultimately resulting in their deaths. Understandably the characters get pretty upset about this, especially when Abrams tries tricking Sam into being his next guinea pig. However Abrams argues that the death of some today is worth it to save the lives of many tomorrow.
Since sleeping equals death, there is a hard time limit on how long people have to come up with a cure. Obviously Abrams is presented as a monster, and he really is, but his character is so well done because he is taking a perfectly rational approach to things. You don't want to agree with him, but given the circumstances, he is making the right choice.
Earlier I mentioned there weren't zombies in this show but there are threats to the characters. Notably, other people. Of course there are just bad dudes out and about but an interesting concept they created for Day 5 are what I call, "Adrenaline Zombies." The series gives them some name but I forgot what it was. These folks need to self-harm, and eventually escalate up to murder, in order to stay awake. Seeing the various ways the survivors come up with to stay awake was fascinating.
These, "Adrenaline Zombies" aren't actually brain dead impulse creatures though. They are functional people who can talk, plan, etc… The first one you meet is closer to an actual zombies but as the series continues, even into season two, they can be a pretty big threat.
Speaking of various ways survivors stay awake, how about people who medically speaking can't sleep? That's a real thing and the show was smart enough to have a character who literally can't sleep. How would they handle this situation?
I could list more interesting facets of just season one but I think I've made my point on what can make this interesting. That said, there are problems. Some episodes just aren't paced well, and one in particular, the jail episode, was quite bad. However, Day 5 is a show that gets better as it goes, and by time season two rolled around in 2017 (a year later), a lot of these issues were rectified.
You can actually watch the first episode totally free on YouTube legally so I'm going to leave that here for you below before discussion season two a bit. I'll also be mentioning where you can watch both seasons legally and about the upcoming third season as well.
Season two dives deeply into the mysteries of the sleep epidemic. After hearing of rumors of a place where you can sleep, and I mean actually sleep, the cast makes their way to the rumored location. In this season you'll learn that sleep epidemic wasn't just some random outbreak and that not every character is who they may claim to be.
The tension is really high in this season with a noticeable budgetary boost. The writing, sets, etc.. were all a lot better here. Season two of Day 5 also was 8 episodes long vs the 6 that season one had.
One thing I didn't mention about the first season was the one major attempt at a sad story. I liked that one but season 2 blows it out of the water with multiple scenes of tragedy interwoven with everything else, not just as a one-off setup for an episode. This isn't to say that season one didn't have any emotional stories interwoven in or anything, just that they weren't nearly as effective as they were here.
Season 2 also had me excited to see the next episode and seeing that it had 2 whole episodes more than last time was an added bonus. Season 1 had me interested but there were weeks where I wouldn't feel compelled to watch the next one right away like I was here.
A big reason for this was the show got a lot more compelling because the mysterious started to seriously unfold. I don't really want to spoil anything for you but it was majorly engrossing! With the way season two ends I can hardly wait for season three.
Speaking of, it has been announced that Day 5 will be receiving a third season in 2019 but it is unclear if it will air on the Rooster Teeth website (and for those in the US on VRV as well) because there is word that this may move to an official TV station in order to increase the scope and budget of the series even further. Though, at this time it is mostly speculation as not much word has been made via official channels.
As for where you can watch this, really just the two places I mentioned above (links provided there). It has been hinted at that there will be a physical release of the seasons eventually but there is not official date at the time of writing. Whether you are looking for a unique spin on an apocalypse story or something that will leave you feeling a bit unsettled, you'll want to give Day 5 a watch. While the start may be slow, you won't want to fall asleep by the end!
---
Have you seen Day 5 before? What are some more unique apocalypse stories you have seen? Share your thoughts in the comments below and if you'll be checking this out or not. If you missed last week's Freaky Friday article for our Halloween celebration here, you can check that out by clicking here. Like what I'm putting out? Please support me by clicking my donation button below as it really does make a big difference for me. Lastly, thank you so much for stopping the by and taking the time to read today. Hope to see you back here at Jon Spencer Reviews again soon!