Guide a Firefly Through a Twilight World
Please note that I received this product free from the developer
I'm one to enjoy a good puzzle game from time-to-time, so when I was approached by the PR team for Nick Cellini's Ashi:  Lake of Light I was a bit curious. Looking into the game a bit I saw that Nick Cellini said,
I've been an admirer of Japanese culture and design aesthetics for a long time. I love
the sense of peace I feel in a Japanese garden, and I wanted to replicate that feeling of serenity within a video game. That's really how most of the design decisions manifested in this game: trying to capture a genuine sense of calm observation, and to encourage curiosity, experimentation and discovery. I've worked hard on Ashi for quite a long time, and it is incredibly exciting to finally be able to release it to the
world.
Couple that with a great aesthetic choice of guiding a firefly with lanterns in a meandering path and I was sold on the concept. Join me as I discuss the game and have a brief interview with the developer, Nick Cellini himself.
Playing the Game
Ashi plays with a very basic concept. There are lanterns spread about the play area that aid you with your goal of getting a firefly to fly through a Torii Gate. At first the levels are very easy as they teach you the core mechanics, but the puzzles become quite challenging over time as they add mechanics like teleportation, lane changes, and different colored lanterns.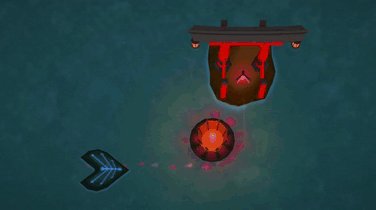 The difficulty for Ashi ramps up in a logical way that won't overwhelm players. This makes the game great regardless of age. In addition to this, Ashi is easy to just jump into for a few minutes throughout the day or for longer sessions. I had the game for about a week and, at the time of writing, I was able to complete all but 3 of the levels by playing casually off-and-on in just over three hours.
I played Ashi on PC but it is available on mobile devices. The game is obviously designed for mobile first but the port to PC was still very good. Some puzzles felt a little tedious as a result but it was never frustrating. Regardless of platform you play Ashi on, the experience should be a good one.
Final Thoughts on Ashi
Admittedly, I was a bit skeptical that the game would be truly meditative as described by the developer on the Steam page. However, it really was a relaxing experience. On some of the bonus puzzles that are more difficult than the normal ones, I never found myself getting frustrated at all! Each puzzle I ran into trouble with I would just try a few times and then revisit if I didn't get it on that try.
What kept Ashi so relaxing was its casual atmosphere, lack of achievements, and no punishment for failure. The musical composition provided by David Barber was the perfect accompaniment for Ashi that greatly elevated the play experience. If there is one thing that Nick Cellini got right with this game it would be delivering on the promise of a relaxing game with a superb atmosphere.
If I had to level any complaints at the game there wouldn't be many. My first minor gripe is that the reset button for each level doesn't reset the board to what it was when you first load into a level. This is a problem because sometimes you can gleam a hint or two from the level based on everything's starting position. If you fiddle with it too much, it can be almost impossible to figure out where you went wrong without the reset button.
My other complaint for Ashi is that sometimes I had an issue regarding perspective. It was not always clear to me where the firefly would end up as it took its winding road guided by the lanterns. While earlier levels presented no trouble, when things got more complicated I found that I had to rely more on trial and error just to see where the firefly actually was for various parts of the puzzle. This is likely something that won't be a problem for most but it is something to be aware of if this is a common issue for you in other games. Regardless, since you can attempt the puzzle as many times as you'd like with no repercussions, it wasn't a big deal to have to do a bit of trial and error for puzzles that had perspective issues.
Interviewing Nick Cellini
The theme for Ashi is one that I greatly enjoyed. It got me thinking, "How did Nick Cellini come up with the ideas for this game?" so I asked him exactly that. Here's what he said:
I came up with the core puzzle mechanic for Ashi about 2 years ago, I was struck by an idea while out for a walk and I came across a round-about on the road. GPS systems often give instructions for roundabouts by telling the driver to take the 1st, 2nd or 3rd exit. That instantly felt like an interesting concept to explore and suggested ideas and images similar to orbiting or slingshotting around planets. Many games that use a gravity or orbiting mechanic have a natural, organic aesthetic, but can be unwieldy and tricky to conceptualize or control. Representing the power, length or magnitude of a gravitational slingshot by a number seemed like a nice, clear way to approach orbiting in a controlled way. The remaining mechanics came as a response to the original core mechanic or orbiting around candles and absorbing their light. I came up with as many ideas I could that would complement the first mechanic and each other, then kept only the most interesting ideas and threw out the rest.
Funnily enough, I also thought about roundabouts while playing this game and how easy it would have been to theme Ashi around something like cars. Of course, the planet and gravity example also came to mind while I played too. That said, seeing Ashi taken in this unique direction is what makes it standout from other puzzle games of a similar nature.
My next question for Nick Cellini was, "What was your experience creating this game? Challenges?"
A good majority of the time spent developing Ashi was creating and using my level editor to iterate and improve puzzle designs. I took the game to a local play testing event every month, to test new puzzle mechanics and see how design changes affected play. Playtesting quite regularly allowed me to see the disparity in how different people were playing the game. Some players found the puzzles easy to decipher and wanted more of higher difficulty, while others struggled to understand and visualize the concept. Designing the puzzles to increase in difficulty in the right way to satisfy as many player types as possible, was definitely one the most challenging tasks.
While playing through Ashi it was clear to me that a lot of time was spent perfecting the difficulty and presentation of the game. Several puzzles utilize interesting ideas that were no doubt gleamed from this extensive playtesting and fine-tuning. A happy balance of difficulty and conceptual understanding was definitely struck with the final release.
Lastly, I had to ask Nick Cellini one last question, "Obviously, this game is inspired by your love of Japanese culture. Have you been to Japan, and if so, how was that experience?"
When I was in high school I competed in a robotics competition called 'Robocup Junior', that was held in Japan. In the competition, kids were allowed to build and program robots for a number of categories. My teammates and I competed in the soccer category, a 2v2 game where robots chase around a clear plastic soccer ball filled with infrared lights, similar to those found in a TV remote. Being able to compete with such a varied collection of people from all around the world in a shared passion was such a memorable experience.


I am also very fond and intrigued by Japanese culture in general, I'm in love with all the work from Studio Ghibli and other anime like Cowboy Bebop and Samurai Champloo. Any friends or acquaintances I met in Japan were so warm, friendly and compassionate. I hope to visit Japan again soon and maybe even visit Lake Ashi in Hakone.
That sounds pretty awesome! What a cool experience to have growing up and having such an experience is really something. With such a glowing recommendation for visiting Japan, I can see why it was such a big influence on Ashi's creation. While this wasn't the most in-depth interview I hope you were able to enjoy this quick look into Ashi's development while learning a bit about Nick Cellini as well.
Places to get Ashi:  Lake of Light & Contest Details
Ashi:  Lake of Light is the kind of game that is perfect for relaxed play when you just want something to do with a few minutes of downtime. Additionally, it is the kind of game you wouldn't mind receiving as a gift from a well-meaning friend. With a price tag of only $3.99 USD some may find this just a tad too expensive but after playing it I would fully recommend it at that price. You can find additional information and purchase details for Ashi:  Lake of Light here. Still on the fence? Here's the trailer:
Want to win a FREE copy of Ashi:  Lake of Light? Starting today (7/18/18) through 7/25/18 you can enter for one of three copies of the game for Steam that I'll be giving away provided courteously by the developer Nick Cellini. To enter, simply click here and follow the instructions on screen!
The Contest is now Over
Congratulations to our three winners!
Kirsten H.

Terry G.

James S.
Thank you to everybody who participated and I hope to do other contests like this one again in the future.
---
Tell me your thoughts on Ashi:  Lake of Light in the comments below. If you enjoy the work I'm doing here click the button below to donate a few dollars and support the site. As always, thanks for reading and I hope to see you back here at Jon Spencer Reviews again soon!