Titling Skills Failed Me… It's Yui
The schedule is here for your viewing pleasure should you require it. I had a hard time coming up with a secondary title so I already gave away that my favorite goofy character is Yui Hirasawa from K-On!. That's not enough for one of these posts though, I have to at least explain as to why. Let's not waste any more time and jump right on in then!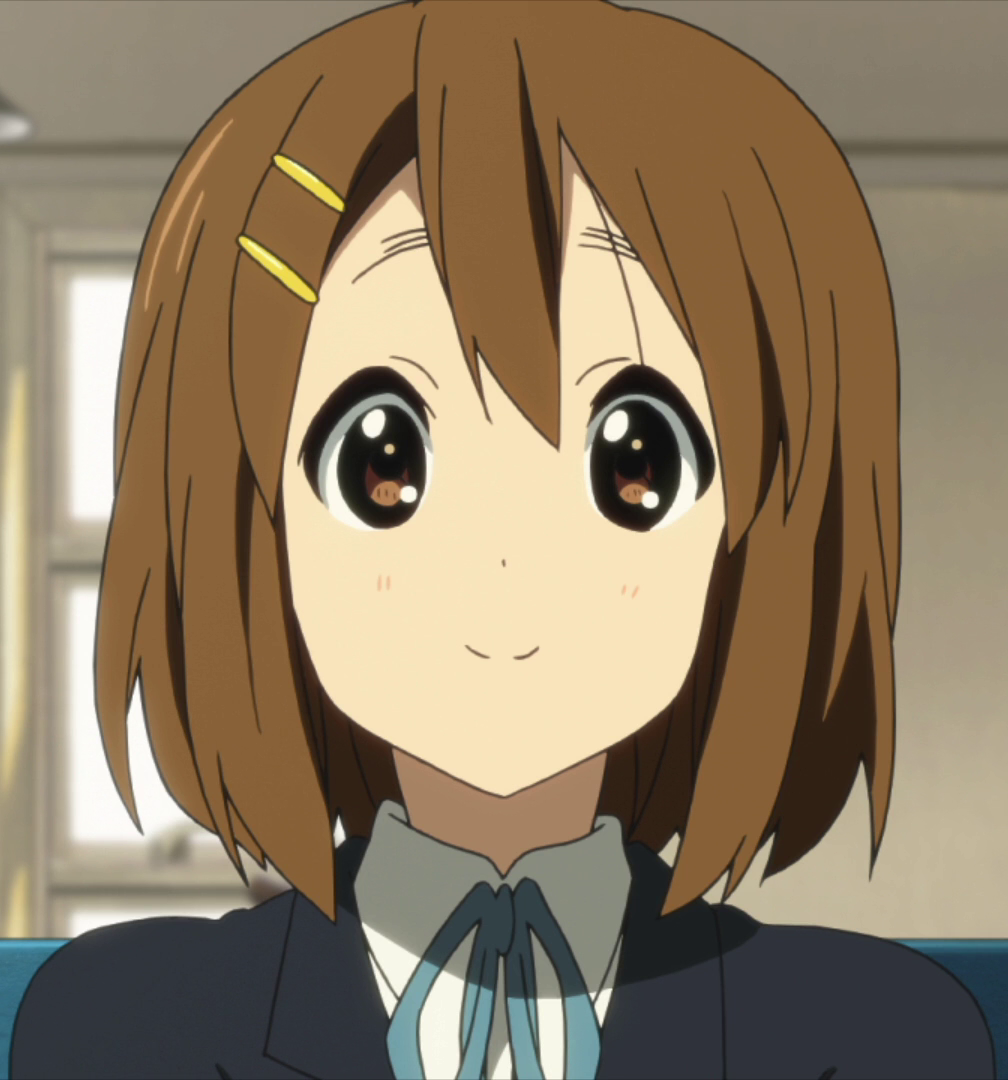 At first Yui was kind of annoying to me. She isn't really motivated and isn't doing much with herself. However, as the anime goes on she becomes a more and more likeable character in K-On!'s cast of girls. This isn't to say that the other cast members are not funny or good in their own right but Yui had a lot more funny scenes and got a laugh from me on multiple occasions.
There are three scenes in particular that come to mind as being extra funny to me. The first being the joke where Yui is having a dream where Mugi's eyebrows are actually pickles. It is so dumb but I really found it funny. The second scene being where Yui is changing the guitar strings on "Giita" and one slaps her gently in the face where she responds, "Ah, Giita how dare you raise a hand to me!" in the kind of overly melodramatic way that makes the line just all the funnier. Lastly, there is a callback to the first joke where Yui learns that by eating Mugi's eyebrows she deflates. I appreciated the callback and the joke definitely worked well the second time it was used.
I know that explaining a joke always makes it seem less funny than it is, but I couldn't find any good clips of the scenes I wanted to talk about here for you. If you've seen the show I'm sure you were able to recall them perfectly but I know I did a disservice for anybody who hasn't seen it yet. Still, Yui grew on me and became a very likable character in the end not only for her goofy nature, but for her hard work and dedication she shows consistently throughout all of K-On!'s two seasons and film.
What are your thoughts on K-On!, my pick, and of course, who would you have chosen for the best goofy character in all of anime? Let me know in the comments below. If you appreciate the work I'm doing here and would like to help me keep doing it please consider giving me a small donation through my Ko-fi page. Every bit helps! Join me again tomorrow for day 22 where I talk about my favorite weapon, gear, or armor used in an anime. Who came up with these prompts?!? That's a weird one for sure! Any way, as always, thanks for reading!