A Bonus Fall 2017 Anime Review!
Our Love has always Been 10 cm Apart, or as I'll refer to it as 10 cm, is an extra anime I decided to pick up while writing all the reviews for the Fall 2017 anime I watched. Being only six episodes long, each at standard length, I figured:  "why not?" It's your typical romance story that really doesn't bring anything new to the table. However, I decided it was worth mentioning because of its length and how that effected the pacing.
Despite being pretty standard, the pacing kept me engaged the entire time. There are several "twists" and "turns" the anime attempts to take that simply wouldn't work if the runtime were longer. Every time something like that was presented in 10 cm it would be immediately relevant and explained by the next episode. It felt really good in that way.
I was pleasantly surprised that by episode two the main pair had basically achieved a relationship and everybody else was following suit. Of course, a wrench gets thrown in for some melodrama but you know everything will work out by time the final episode comes around. Still, since there are only a few episodes there isn't much wasted time here.
While the generic romance story benefited from this quickened pace, the unique aspects were sadly underdeveloped. Not really a surprise but it could have elevated this show to a much higher state had 10 cm managed it. The main guy loves filming movies, and apparently he's really good at it. The thing is though, you never see anything he does (well there is that one time but it is like a 3 second clip). You are just told how amazing he is. His character felt kind of bland because of this.
Self-insert main man does get some development towards the end when he struggles with a personal matter, but that's about it. While I initially felt for him, the conclusion he comes to on his own is pretty dumb. But hey, main gal does swoop in and right his way of thinking so I guess that was ok.
Main girl loves painting. Unlike main guy, you actually see some of her creations. This is probably because a painting is super easy to convey quality with a still image as opposed to the subtleties that come in directing and shooting a film. Regardless, she was a fully fleshed out character. Maybe a little plain at worst, but she felt a lot better than the guy.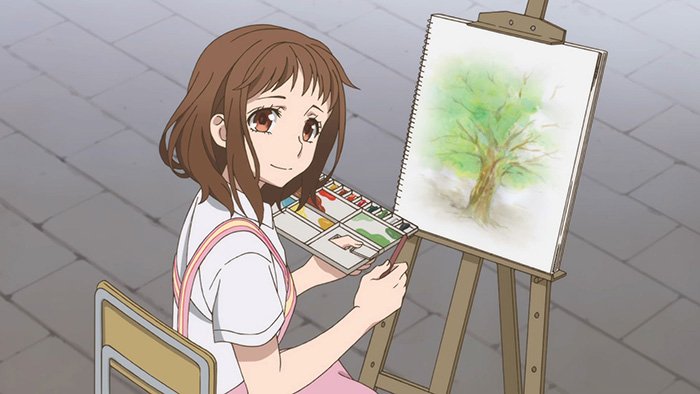 The final episode is the only one that really felt like it drug on too long and out stayed its welcome. For the first time really, it teased a "will-they-won't-they" and it just wasn't the place for that. While showing the characters as adults and some aftermath moments was great, this final tease only emphasized how generic the story was. Of course it all works out in the end with a semi-touching moment, but I was left feeling kind of indifferent by the end.
Intrigued by the episode count and having a subject matter that I enjoy, I certainly don't feel like I wasted my time by picking this one up. 10 cm had some interesting ideas and attempted to bank on a condensed rehash of the popular boy-meets-girl story, but failed to really standout due to its generic plot. You can watch the show on Crunchyroll or VRV for free if you decide you want to check it out.
---
Did you decide to give this a go like I did because of its shortness? Let me know your thoughts on 10 cm in the comments below. If you would like to support my content contributors and myself, then consider becoming a patron of mine. For full details click the button below. As always, thanks for reading and I hope to see you back here at Jon Spencer Reviews again soon!