Overview
This is Film review 1 & is part of Halloween Week🎃
With Halloween being today, I decided to do what any department store would; I decided to get ready for Christmas! Seriously though, it's kind of crazy how people switch gears like that, especially with a whole month between then, and another holiday. Regardless, I figured we should take it easy for the last day of Halloween week and take a look at what I consider the quintessential Halloween movie.
Story
The story for The Nightmare Before Christmas is incredibly bizarre, coming from the mind of Tim Burton. This is especially true when it's realized that this is meant to be a children's film. The story begins by introducing the audience to Halloween Town and the main character Jack, The Pumpkin King. In this strange world Halloween is a year round deal, and they prep our world for Halloween when the time comes.
However, there is a problem. Jack is getting tired of Halloween and his position within the town. One day, he stumbles upon a series of doors in the woods that lead to different holiday themed worlds. He opens one and finds himself in Christmas Town.
From here, Jack decides to take over the preparations for Christmas, becoming obsessed with it. Obviously, Halloween doing Christmas would be a nightmare (wonder where the title came from…), and things quickly begin to go amiss. This is pretty much the story in a nutshell and for all the weirdness that it contains, it's pretty good.
Characters
All of the characters are unique in their design and are excellently done. Notably, Jack, Oogie Boogie, and Santa are the highlights of the film. I enjoyed the bits and pieces you get to see of all the characters but these 3 just oozed the atmosphere and tone of the movie.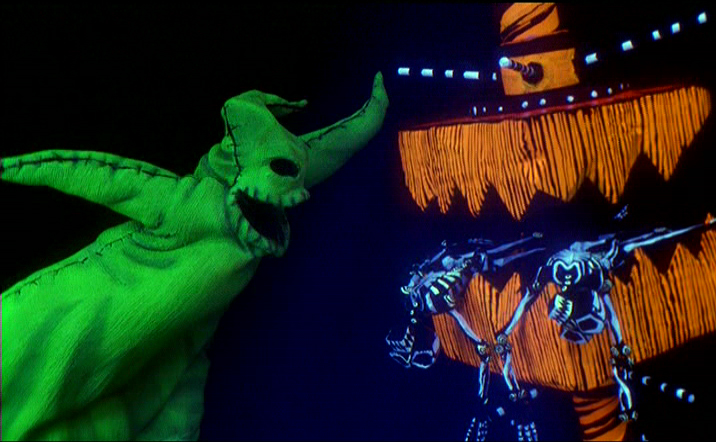 I don't really have much to say here. It's really a case of seeing it and experiencing it over having it explained. This isn't to say that I'm incapable of describing the characters in more detail but I honestly couldn't do the justice the film deserves.
Visuals & Sound
The Nightmare Before Christmas is shot in stop motion. This adds a lot to the movie since it has a sort of creepy feeling throughout to begin with. I for one, enjoy stop motion immensely, making this film just that much better. It's all done fluidly and is definitely one of the highlights of the film.
Being a member of the Disney family, this film has the level of music that you would expect. There are tons of songs and I love each and everyone of them. In fact, I even own the soundtrack. That's a bit of overkill for most, but I really enjoyed the music here.
Lastly, the voice acting is all fantastic. I particularly enjoyed Chris Sarandon as Jack and Ken Page as Oogie Boogie. Everyone else does a fine job, but for me, these two make the film. Since you hear them quite a bit, that's definitely a good thing.
Final Thoughts & Where To Buy
If for some reason you haven't seen this, go watch it. Seriously. It's one of my favorite movies and if you are looking for an all purpose Halloween film this is the one. You can buy the film on Amazon either for streaming or on DVD. Enough of me talking here, go enjoy your holiday and watch this film already!
---
If you liked this, let others know by sharing or leaving a like. Did you enjoy the film as much as I did? Let myself and others know in the comments below. If you like my content consider following me here, via email subscription, Facebook, or over on Twitter @JS_Reviews to stay up to date on whatever I make.